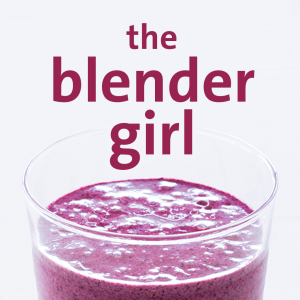 Pomegranate Slam it! Smoothie
With a complex, mind-blowing flavor that explodes like a firecracker (don't omit the cayenne), this is a heart-healthy delight. Pomegranate lowers blood pressure, keeps arteries supple, decreases inflammation in blood vessels, and helps manage cholesterol. Its phenolic antioxidants (also in strawberries) combat oxidative stress, making this an anti-aging tonic.
Yield: serves 2
Ingredients:
1 1/2 cups (360ml) unsweetened pomegranate juice
1 orange, peeled, seeded, and quartered
1/4 cup (35g) chopped red bell pepper
1/8 cup (3g) loosely packed arugula
1/2 small avocado, pitted and peeled
1 cup (160g) frozen strawberries
1 cup (125g) ice cubes
Throw all of the ingredients into your blender and blast on high for about 1 minute, until smooth and creamy.
Boosters Ingredients:
1 tablespoon pomegranate powder
1/2 cup (15g) loosely packed chard leaves
Pinch of cayenne pepper
This recipe can be found on The Blender Girl Smoothies App. The app features high-quality, delicious recipes with gorgeous photography, and includes user-friendly features such as:
An interactive function that allows the user to consider what they "Feel, Need, and Crave" to "find their perfect blend"
Visual cues that indicate specific benefits and attributes of each recipes (e.g. detox, weight management, alkaline, anti-inflammatory, protein rich, immunity boost, energizing, unsweetened, contains nuts)
Dietary restriction filters, shopping list function and metric/imperial conversions
A self-populating shopping list to assist users in purchasing ingredients for the smoothie recipes they select
Three optional ingredients added to every recipe that boost the flavor profile and nutritional benefits
Hello! We hope you made and enjoyed this recipe provided by Tess Masters and The Blender Girl Smoothies App! Please note that all photos and content are copyright protected. Please do not use our photos without prior written permission. If you wish to republish this recipe, please rewrite the recipe in your own unique words and link back to Pomegranate Slam it! Smoothie on Food Literacy Center's website. Thank you!
Related Links