Recipe
Food Literacy Center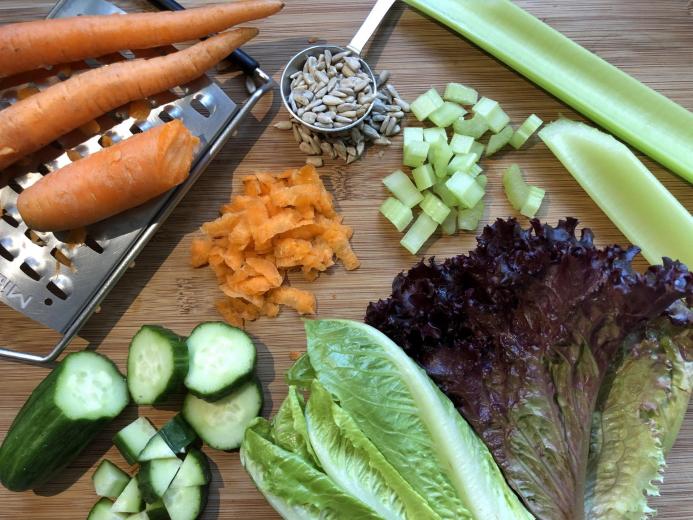 Plant Parts Salad
This salad is a favorite with hundreds of kids in our cooking classes! It contains all the parts of a plant: a root, fruit, seed, leaf, and stem. The honey soy dressing sets this recipe apart with a rich, bold flavor that kids love.
Plant Parts Salad
Yield: 3-4 cups salad
Printable Recipe in English
Printable Recipe in Spanish
Printable Recipe in Hmong
Video of the Recipe
Ingredients
1/2 cucumber, cubed
1/2 stem celery, diced
1/4 broccoli head, chopped
1/2 lettuce head, chopped
1 carrot, grated
1 Tablespoon roasted sunflower seeds
1/4 cup Honey Soy Dressing
Instructions for Adults
Assist children to ensure proper knife skills and safety.
Instructions for Kids
Using a plastic knife, cut the cucumber and celery into 1-inch cubes. Do the same with the broccoli.
Chop the lettuce with a plastic knife or tear by hand.
With the help of an adult, grate the carrot.
Add all the ingredients and the sunflower seeds to a large mixing bowl.
Add 1/4 cup Honey Soy Dressing (recipe below).
Toss salad with tongs to combine. Serve and enjoy!
Honey Soy Dressing
Yield: 1 1/4 cups salad dressing
Ingredients
1/2 cup canola oil
1/4 cup sesame oil
1/4 cup rice vinegar
1/4 cup soy sauce
2 Tablespoons honey
Instructions for Adults
Help kids measure recipe ingredients.
Instructions for Kids
Measure ingredients and add them all to a jar. Screw the lid on tightly. Shake until combined, about 30 seconds or more.
You can store any extra dressing in the fridge. It will keep for a few weeks.
Hello! We hope you made and enjoyed this recipe from our Your Sandwich Can Save the World! Food Literacy Curriculum! Please note that all photos and content are copyright protected. Please do not use our photos without prior written permission. If you wish to republish this recipe, please rewrite the recipe in your own unique words and link back to Plant Parts Salad with Honey Soy Dressing on Food Literacy Center's website. Thank you!
Related Links