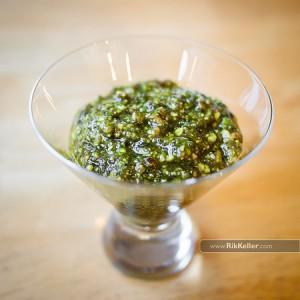 Pistachio-Sage Pesto
When I was little, my mother subscribed to Gourmet magazine in a very small town. She was known for her cooking, and always wanted to try new things. So we instituted Guinea Pig Night sometime in the '70s. The deal was that once a week my mom cooked something new from a cookbook or magazine and the other three of us got to vote on whether to put it into the regular line-up. This is how we got to taste "fancy" things like boeuf bourguignon (thanks, Julia!) and Williamsburg peanut soup.
Recently I tried this version of pesto and I thought what a great non-summer sauce it is. My front walk is brimming with sage year-round and pistachios are a great local nut that seems under-appreciated. I don't have to wait for that brief period of summer when my basil is good but not bolting.
The bonus is that my young daughter loved it and asked for "more green pasta" again and again!
Yield: Makes about 1 1/3 cups (but easily doubles or triples; freeze extras for later)
Pistachio-Sage Pesto
Ingredients:
1 cup toasted pistachios
1/4 cup grated romano cheese
1/4 cup grated Parmesan cheese
12 medium to large fresh sage leaves
1 garlic clove
1 cup extra-virgin olive oil
Salt
Black pepper
Instructions:
Put the pistachios in a food processor and pulse until they are coarsely ground. Add the cheeses, sage, and garlic and turn on the machine. Slowly pour the oil in through the feed tube until the pesto is smooth. Scrape down the sides, season with salt and pepper, and process again. Refrigerate the pesto with plastic pressed to the surface to prevent browning, or freeze in small batches and defrost as needed.
Hello! We hope you made and enjoyed this recipe provided by Ann Martin Rolke! Please note that all photos and content are copyright protected. Please do not use our photos without prior written permission. If you wish to republish this recipe, please rewrite the recipe in your own unique words and link back to Pistachio-Sage Pesto on Food Literacy Center's website. Thank you!
Related Links