Recipe
Food Literacy Center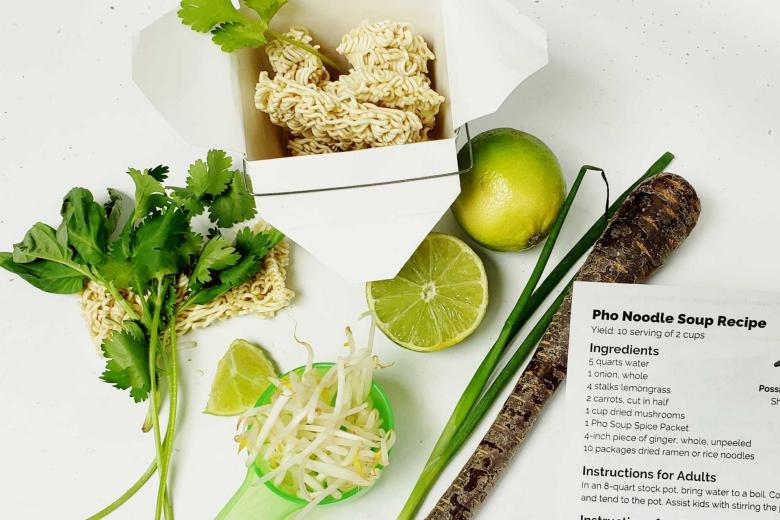 Pho Inspired Noodle Soup
Pho Noodle Soup
Yield: 10 servings of 2 cups
Ingredients:
5 quarts water
1 onion, whole
4 stalks lemongrass
2 carrots, cut in half
1 cup dried mushrooms
1 Pho Soup Spice Packet
4-inch piece of ginger, whole, unpeeled
10 packages dried ramen or rice noodles
Possible Garnishes
Shredded carrot
Cilantro
Bean sprouts
Basil
Instructions for adults:
In an 8-quart stock pot, bring water to a boil. Control heat and tend to the pot. Assist kids with stirring the pot.
Instructions for kids:
Place onion, lemongrass, and ginger in a dry pan over medium-high heat to char for 2-3 minutes per side or until golden brown on all sides.
Add charred onion, lemongrass, ginger, carrots and mushrooms to the pot.
Add the spice packet. Return to a boil, reduce heat and simmer for 30 minutes, stirring occasionally.
Place one ramen square into a bowl. Pour 2 cups of broth over the noodles and let stand until the noodles are soft.
Add any garnish you desire. Serve and enjoy!
Leftover broth can be refrigerated in an airtight container for a week or frozen for a month.
Pho Soup Spice Packet
Yield: 1 packet makes 5 quarts broth
Ingredients:
1 Tablespoon whole cloves
2 black cardamom pods
2 star anise pods
1 cinnamon stick
6 pieces of licorice bark
1 teaspoon fennel seed
Supplies
Tea bag or cheesecloth
Kitchen twine
Instructions for adults:
Assist where needed.
Instructions for kids:
Add all of the ingredients in a small bowl.
Stir to combine.
Place in tea bag or piece of cheesecloth and tie shut with kitchen twine.
Store in a cool, dry place. The seasoning will keep for several weeks.
Hello! We hope you made and enjoyed this recipe from our Your Sandwich Can Save the World! Food Literacy Curriculum! Please note that all photos and content are copyright protected. Please do not use our photos without prior written permission. If you wish to republish this recipe, please rewrite the recipe in your own unique words and link back to Soba Noodle Salad and Dressing on Food Literacy Center's website. Thank you!
Related Links