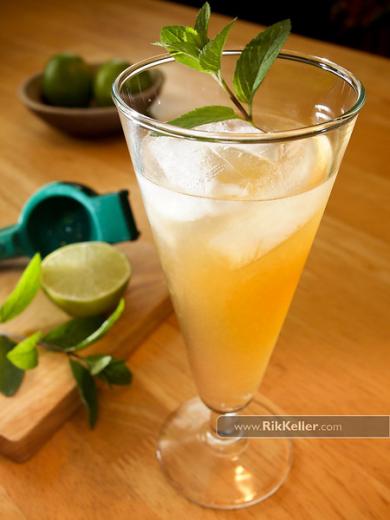 Minty Mojitos
If you like to make cocktails or even mocktails, simple syrup is a must-have ingredient. We use it in smoothies and iced tea, but my latest favorite is mixing mint simple syrup into mojitos.
Once you get the hang of making and using it, try infusing other flavors into the syrup while it's still hot. Herbs like basil and lemon balm work well; coffee beans would make a nice syrup; crushed berries or citrus peels add fruitiness and color. Once the syrup has cooled, strain out the solids and discard them, retaining the syrup. I once made a fantastically zingy ginger syrup using fresh ginger and then used it to make a cocktail with vodka and fresh lemon juice. We used the leftover syrup for weeks in our hot tea to stave off colds.
I love the old-fashioned lime juicer that I bought a few years ago (you can see it to the left of the mojito). We just juice the limes right over the glass when only making a few drinks.
Yield: makes 2 cups syrup for drinks as needed
Simple Syrup Ingredients:
1 cup sugar
1 cup water
2 cups washed mint leaves and stems
Mojito (each) Ingredients:
1 tablespoon fresh lime juice
1/4 cup rum
1/3 cup simple syrup
ice
Instructions:
Several hours or a day ahead, make the syrup: Bring the sugar and water to a boil in a medium pot. When it begins to boil, add the mint leaves, pressing them under the surface with a spoon as much as possible. Let the syrup return to a boil and remove from the heat. Let the syrup cool to room temperature. Strain out the mint and discard it. Refrigerate the syrup.
To make mojitos: For each drink, fill a glass halfway with ice. Add the lime juice (depending on the juiciness of the limes, this could be 1/2 to 1 lime). Pour the rum and syrup on top and mix gently. Garnish with fresh mint to add extra aroma as you drink. Sigh with pleasure.
Hello! We hope you made and enjoyed this recipe provided by Ann Martin Rolke! Food Literacy Curriculum! Please note that all photos and content are copyright protected. Please do not use our photos without prior written permission. If you wish to republish this recipe, please rewrite the recipe in your own unique words and link back to Minty Mojitos on Food Literacy Center's website. Thank you!
Related Links