Recipe
Ann, Grange Contest Winner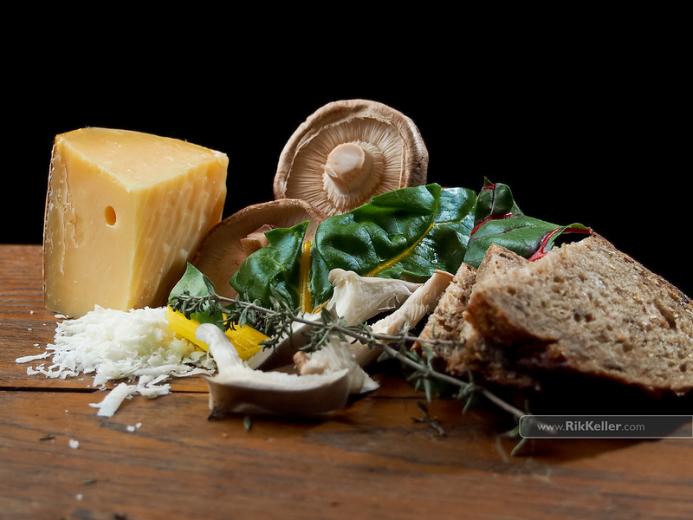 Meatless Monday: Panade Soup
Need a little warmth in your tummy? We've got an award-winning soup recipe to share with you!
Recently, Grange Restaurant in Sacramento hired a new chef–Oliver Ridgeway. To get to know some of the food bloggers in town, Grange sponsored a contest, asking for original soup recipes for the chef to test. They wanted fresh, seasonal ingredients with a focus on locally sourced products to match the style of their restaurant. The winner would receive their recipe on the Grange menu for the Dine Downtown event, featuring three-course menus for $30. Ann's Panade (Bread Soup with Chard and Wild Mushrooms) was the lucky winner!
It's a simple soup of whole-grain bread, chard, wild mushrooms, and onions layered in a Dutch oven and baked for an hour. Topped with a nutty cheese and seasoned with fresh thyme, the panade becomes a hearty stomach-warming meal. If you're in Sacramento this coming week, look for it at Grange along with other seasonal dishes like winter vegetable strudel with smoked sweet potato and braised pork shoulder.
Yield: Serves 8 to 10
Panade (Bread Soup with Chard and Wild Mushrooms)
This is a vegetarian soup, but it has a rich flavor due to the long braising.
Ingredients:
10 to 12 ounces fresh chard, rinsed
2 cups thinly sliced onions
6 ounces wild mushrooms, sliced
1 tablespoon minced garlic
1 teaspoon salt
1/2 teaspoon freshly ground black pepper
1 1/2 teaspoons minced fresh thyme
1 loaf (about 1 pound) whole-grain pain au levain or other rustic bread, cut into 1/2-inch slices (you may not need all of them)
1/2 cup hearty red wine
2 tablespoons extra-virgin olive oil
1 tablespoon honey
2 quarts vegetable broth
1 cup grated hard cheese, like Vella Jack or Parmesan
Instructions:
Preheat the oven to 375°F.
Cut the chard across the leaves into 1-inch wide strips, discarding any large pieces of stem.
In a 5- to 7-quart Dutch oven or other heavy, deep casserole, put down half the onions, half the chard, and half of the mushrooms. Sprinkle the layer with the garlic, salt, pepper, and thyme. Put in a layer of bread, fitting it loosely. Add the remaining onions, chard, and mushrooms. Top with another layer of bread. Mix together the wine, oil, and honey to dissolve the honey. Pour them over the top layer of bread. Pour on the broth. Scatter the top evenly with the cheese.
Cover the pot with foil (not the lid) and seal it around the edges. Cut 4 or 5 vent holes in the top. Put it in the oven with a rimmed baking sheet underneath, to catch any spillover. Bake for 1 hour, until the bread has disintegrated and the mushrooms are tender. Serve immediately, digging into the layers to get a bit of everything for each portion.
For more great soup recipes, visit the other bloggers who participated:
Kimberly Morales at Poor Girl Eats Well
Melissa Vanni at Pretty Yummy Food and her Roasted Cauliflower Soup with Bacon and Kale
Stephanie Nuccitelli at 52 Kitchen Adventures, where she recounts Chef Ridgeway's delicious lunch
Food Literacy Center's founder, Amber Stott at Awake at the Whisk
Elise Bauer at Simply Recipes created another version of this mushroom panade soup. Thanks, Elise!
Hello! We hope you made and enjoyed this recipe from our Your Sandwich Can Save the World! Food Literacy Curriculum! Please note that all photos and content are copyright protected. Please do not use our photos without prior written permission. If you wish to republish this recipe, please rewrite the recipe in your own unique words and link back to Meatless Monday: Panade Soup on Food Literacy Center's website. Thank you!
Related Links