Recipe
Heather Teoh of Eat the Wind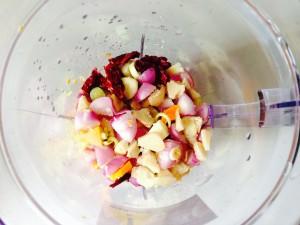 Malaysian Spice Paste (Rempah) Recipe
The Malay word rempah means spice paste and it is an essential blend of various herbs and spices used as an aromatic base for a whole host of dishes in Malaysia and Singapore.
This authentic Malaysian spice paste recipe can be used as a base for chicken or seafood curries. You can find all these ingredients at any Asian market or specialty grocery stores in the United States. When combined, this spice paste gives off an aromatic flavor that will make your homemade curry the talk of the town!
Serving: for one pot of curry
Malaysian Spice Pasta
Ingredients:
2-inch galangal, peeled and cut into pieces
3 stalks lemongrass, slice bottom stalk finely
10-12 candlenuts, smashed with large knife
2-inch fresh turmeric, peeled and cut into pieces
3 big cloves garlic, peeled
5-10 dried chilies or to taste
20 shallots, peeled and cut into half
1 sq inch belachan (fermented shrimp paste)
2-3 Tablespoons vegetable oil
Instructions:
Combine all the ingredients in a blender and blend into a fine paste. Fry the spice paste with vegetable oil over low heat until fragrant.
If you're not using it right away, you can store it in the refrigerator or freezer. When it has cooled down, scoop the paste into an airtight jar and refrigerate it for up to one month. You can also spoon the paste into ice cube trays, place it in a ziplock bag, and store it in the freezer for up to 3 months.
If you are using it right away, marinade your protein with 2 tablespoons of the paste for a few hours.
Then add your protein to the remaining paste and sauté together over medium heat until the protein is almost cooked. Add a cup of coconut milk and simmer for around 10 to 15 minutes longer.
For a truly authentic Malaysian and Singaporean experience, enjoy the curry with rice or with sliced French loaf.
Hello! We hope you made and enjoyed this recipe provided by Eat the Wind! Please note that all photos and content are copyright protected. Please do not use our photos without prior written permission. If you wish to republish this recipe, please rewrite the recipe in your own unique words and link back to Malaysian Spice Paste (Rempah) Recipe on Food Literacy Center's website. Thank you!
Related Links