Recipe
Food Literacy Center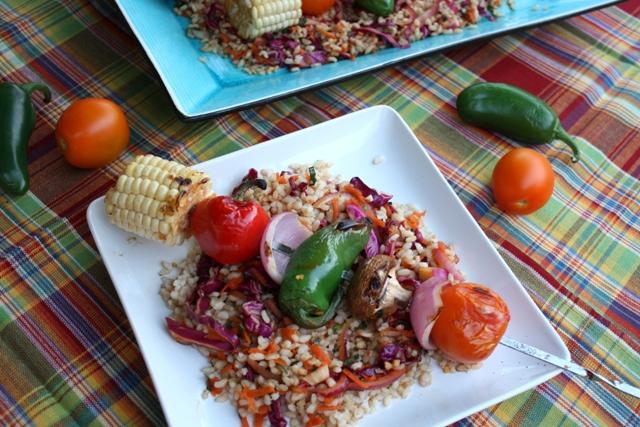 Korean BBQ Veggie Kebabs
Enjoy this recipe in summer on the BBQ–or indoors throughout the year. It's a great way to inspire kids to eat their veggies, because skewers are just more fun! Our simple marinade gives bold flavor to fire-roasted veggies over whole grain brown rice. Swap our suggested veggies for any others that are in season. Tasty as a side dish or as a main course, this kid-approved recipe is sure to increase curiosity.
Korean BBQ Veggie Kebab Recipe
Yield: 4 servings
Supply List
Printable Recipe
Video tutorial: Facebook or YouTube
Ingredients
1 ear corn on the cob, husk and silk removed, sliced in 4 chunks
4 large button mushrooms, whole
4 small tomatoes, whole
4 jalapeño peppers, whole, optional
4 sweet peppers, whole
1 red onion, cut in half and sectioned
1 cup Korean BBQ Marinade (recipe below)
2 cups cooked brown rice
Instructions for Adults
Preheat grill to 450 degrees. Grill vegetable skewers.
Instructions for Kids
In a large bowl, place the corn, mushrooms, tomatoes, peppers, and onion. Pour 1/2 cup of the marinade over the veggies and toss to coat. Allow to marinate for 30 minutes.
Using 4 metal skewers, skewer the marinated vegetables.
Place skewers on a preheated grill for 5 minutes, or until veggies begin to show grill marks. Turn skewers over and grill an additional 5 minutes, or until the veggies show grill marks and are beginning to slightly brown. Repeat until all veggies are evenly browned and begin to soften but are still firm. Remove from heat and cover to keep warm.
Place brown rice in a medium sized mixing bowl. Add 1/2 cup of the marinade. Stir to combine.
Serve the rice mixture on a platter and top the rice with the cooked veggie kebabs.
Tips: The tomatoes will become soft when grilled–they're delicious this way. Be careful not to crush them before serving. Use a combination of hot or mild peppers, depending on your taste.
Korean BBQ Marinade Recipe
Yield: 1 cup
Ingredients
1/2 cup rice vinegar
1/2 cup soy sauce
6 Tablespoons honey
2 Tablespoons sesame oil
1 Tablespoon minced fresh ginger root
Instructions for Adults
Assist with measuring and use of safe knife skills.
Instructions for Kids
Place all the marinade ingredients in a jar. Screw the lid onto the jar tightly, and shake until combined.
Hello! We hope you made and enjoyed this recipe from our Your Sandwich Can Save the World! Food Literacy Curriculum! Please note that all photos and content are copyright protected. Please do not use our photos without prior written permission. If you wish to republish this recipe, please rewrite the recipe in your own unique words and link back to Korean BBQ Veggie Kebabs on Food Literacy Center's website. Thank you!
Related Links