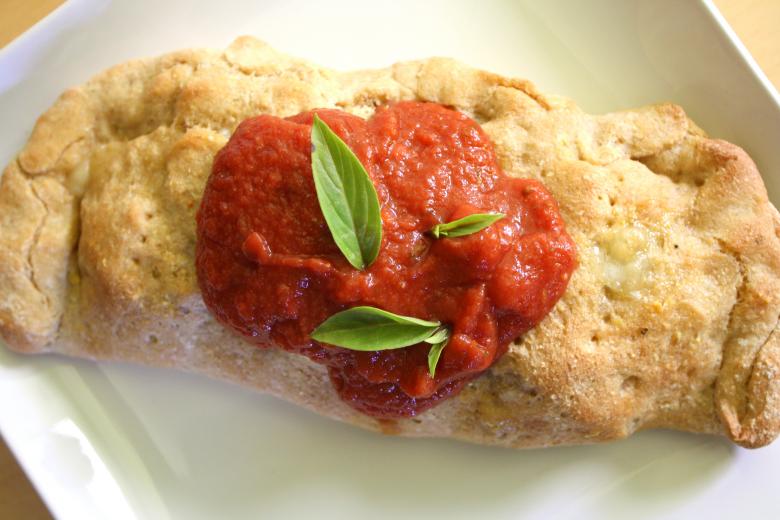 International Calzones
With all of the prepared sauces and shredded or crumbled cheeses that you can buy now, these calzones are a snap to make. They're especially fun for a group of kids or even adults—each person picks the country they like and then assembles their calzone to order. You just need to have all the ingredients ready to go and lined up on a work surface, with flour to help roll out the dough. To roll out rounds of dough ahead of time, layer them between sheets of parchment or waxed paper, wrap well, and refrigerate until needed.
Serves a multitude
International Calzones
Ingredients for each calzone:
8 ounces prepared pizza dough (unbaked)
All-purpose flour
Cornmeal
3 tablespoons sauce
1 cup total cheese and fillings
Olive oil
Instructions:
Preheat the oven to 450°F. Put a baking stone in the oven or line a baking sheet with parchment.
Roll out the dough on a floured surface to an even round about 9 inches wide. Scatter the prepared baking sheet or a pizza peel lightly with cornmeal. Transfer the dough round to the sheet or peel.
Using one of the suggested combinations or your own creation, layer the filling on half of the dough, keeping a 3/4-inch margin clear. Dampen your hands and "paint" the edges with water. Fold over the dough to enclose the filling and press the edges firmly closed. Use a fork or your fingers to crimp the edges. Use a knife to make 1 or 2 small slits in the top.
Bake 15 minutes, until the dough is light brown and puffed. Brush lightly with oil, if desired, and then cut and serve.
Tip: When using spinach or other greens, pack them tightly in a measuring cup since they will cook down in the oven.
Suggested Fillings
Greece:
Tzatziki sauce
Sliced black olives
Feta cheese
Fresh spinach
Cherry tomatoes, halved
Shredded cooked chicken
Mexico:
Pico de gallo, drained
Canned refried beans
Shredded pepper Jack cheese
Sliced cooked chorizo/shredded cooked chicken
Chopped green onions
Thailand:
Peanut sauce
Chopped green onions
Shredded mozzarella/goat cheese
Fresh spinach
Shredded cooked chicken
Italy:
Pesto sauce
Mixed shredded Italian cheeses
Sliced sausage/salami
Sliced black olives
France:
Roquefort dressing
Minced garlic
Sliced mushrooms
Shredded cooked chicken
Shredded mozzarella cheese
India:
Curry or masala sauce (not paste)
Fresh spinach
Diced cooked potatoes/cauliflower
Canned chickpeas, drained
Shredded mozzarella cheese
United States:
Marinara sauce
Sliced pepperoni
Sliced black olives
Mixed shredded cheeses
Sliced mushrooms
Hello! We hope you made and enjoyed this recipe provided by Ann Martin Rolke! ​Please note that all photos and content are copyright protected. Please do not use our photos without prior written permission. If you wish to republish this recipe, please rewrite the recipe in your own unique words and link back to International Calzones on Food Literacy Center's website. Thank you!
Related Links