Recipe
Food Literacy Center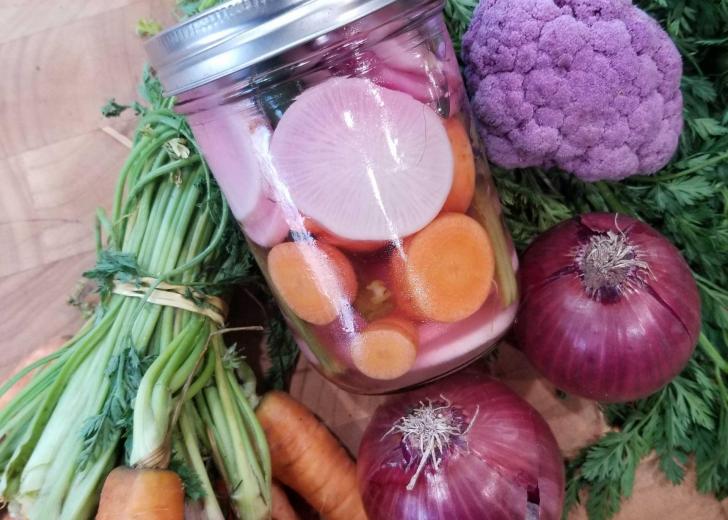 Homemade Pickled Vegetables
Pickled Vegetables are a quick and easy way to preserve farmers market veggies and reduce food waste by reusing pickle juice. The veggies are savory and crisp!
Homemade Pickled Vegetables Recipe
Yield: 4 servings
Supply List
Printable Recipe
Video tutorial: Facebook or YouTube
Ingredients
Liquid from 1 jar of pickles (pickles removed or eaten) 2-5 root vegetables, sliced into coins*
1 jalapeno, sliced into coins, optional
1-3 Tablespoons white distilled vinegar
*root vegetable options: carrots, radishes, turnips, beets, ginger, etc.
Instructions for Adults
Assist with supervision of safe knife skills.
Instructions for Kids
Slice vegetables and jalapeno (if using).
Place the sliced vegetables in the pickle jar of pickle juice. Fill to within 1-inch of the top of the jar. If the liquid doesn't completely cover the vegetables, add white vinegar until it reaches the top of the jar.
Screw the lid on the jar and shake to blend the vinegar with the pickle juice.
Place in the fridge overnight. Serve.
Hello! We hope you made and enjoyed this recipe from our Your Sandwich Can Save the World! Food Literacy Curriculum! Please note that all photos and content are copyright protected. Please do not use our photos without prior written permission. If you wish to republish this recipe, please rewrite the recipe in your own unique words and link back to Homemade Pickled Vegetables Recipe on Food Literacy Center's website. Thank you!
Related Links