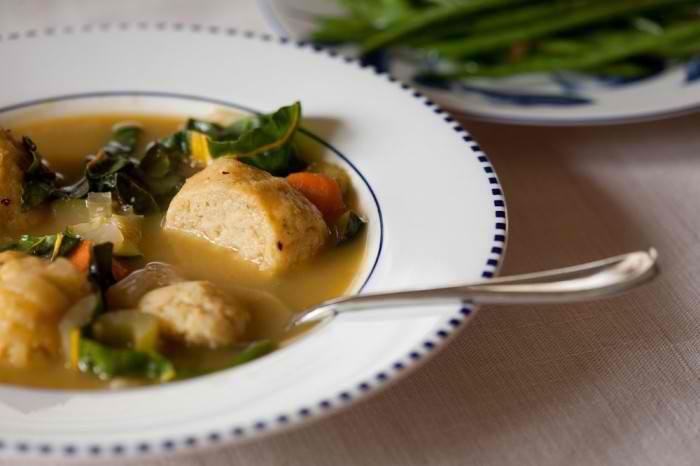 Grandma Kaye's Matzo Ball Soup
Celebrate Passover (or any other occasion) with a delicious hot bowl of matzo ball soup packed with nutritious vegetables. Our friend and former board member Jillena Hernández created a vegetarian matzo ball soup recipe, blending traditional elements with her own unique touches. Serve it as a side dish with a salad or sandwich or enjoy it as a main meal.
Yield: Serves 5 as a main dish
Grandma Kaye's Matzo Ball Soup
Ingredients:
1 package Manischewitz vegetarian Matzo Ball and Soup Mix
2 eggs
3 carrots, sliced thin
1 med onion, diced
3 celery stalks, sliced thin
2 cloves garlic, minced
6-7 chard stalks, chopped large
2 1/2 qrts low sodium organic veggie broth
2 bay leaves
3 1/2 tsp olive oil
Instructions:
After preparing vegetables for the soup, prepare the matzo ball mix in a medium-size bowl according to the directions on the packaging and put into the refrigerator to set for 15 minutes. The mix called for 2 tablespoons to be used in the matzo balls but I reduced it to 2 teaspoons which worked just fine. Depending on your preference for floaters or sinkers, less oil will make it more likely to sink.
Heat 1 1/2 tsp oil in a large soup pot. Sauté the carrots, onion, and celery until softened- not browned. After roughly 4 minutes stirring frequently, add the minced garlic and continue to cook for 1 minute. Add the broth.
Bring to a boil and add the spice packet.
Get ready to make your matzo balls. Keep your hands wet while rolling the balls. I fill a small bowl of water and place it next to the stove. Bring your matzo ball mix to the stove, wet hands and roll approximately a tablespoon of dough into a ball. You can make them bigger or smaller based on your preference. The balls grow about 30% in size from absorbing the stock so keep that in mind when you determine how big you want them. Drop them into the boiling soup.
Cook for 20 minutes covered. The balls should be firm dumplings when ready to eat. Turn off the heat and mix in the chard. Let sit for about five minutes before serving.
For another Passover recipe, visit:
Matzo Brei by Simply Recipes.
Hello! We hope you made and enjoyed this recipe provided by Jillena Hernández! Please note that all photos and content are copyright protected. Please do not use our photos without prior written permission. If you wish to republish this recipe, please rewrite the recipe in your own unique words and link back to Grandma Kaye's Matzo Ball Soup on Food Literacy Center's website. Thank you!
Related Links