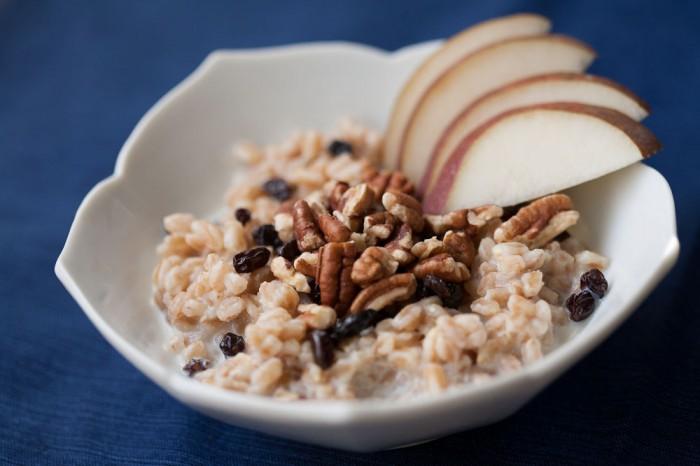 Farro Porridge with Pecans & Currants
Enjoy a warm, hearty and healthy farro porridge to help kick-start your busy day, created by our talented former board member Jillena Hernández! Top your porridge with your choice of fruits, spices and nuts to enliven your breakfast. Experiment with different ingredients in your fridge and pantry to combine various textures and flavors.
Farro porridge with pecans and currants recipe
Ingredients:
1 1/2 c farro
1 1/2 c soy milk or almond milk
1 tsp good vanilla extract (Spend the money and get the good stuff, you will never turn back!)
1 pear
pecans
currants
Instructions:
Bring 2 quarts of water to a boil. Add the farro and boil until slightly aldente, approximately 20 minutes. Drain and return to the pot. Simmer in the soy milk until tender and plump. I like to boil the grain in water first, frankly, because I want the grain to first absorb a lot of water for calorie purposes. By finishing the grains off with simmering in soy milk, it will absorb less milk. My general rule is that if it takes more than 15 minutes to cook, I use this method. Otherwise, I start from the beginning with milk.
When the porridge is ready, stir in the vanilla, and top with pear slices, pecans, and currants.
Additional toppings:
maple syrup!
almonds (toasted or raw)
cashews
strawberries
blueberries
orange slices
apple slices
raisins
banana
honey
agave
cinnamon
wheat germ
flax seed
Hello! We hope you made and enjoyed this recipe provided by Jillena Hernández! Please note that all photos and content are copyright protected. Please do not use our photos without prior written permission. If you wish to republish this recipe, please rewrite the recipe in your own unique words and link back to Farro Porridge with Pecans and Currants on Food Literacy Center's website. Thank you!
Related Links