Recipe
Food Literacy Center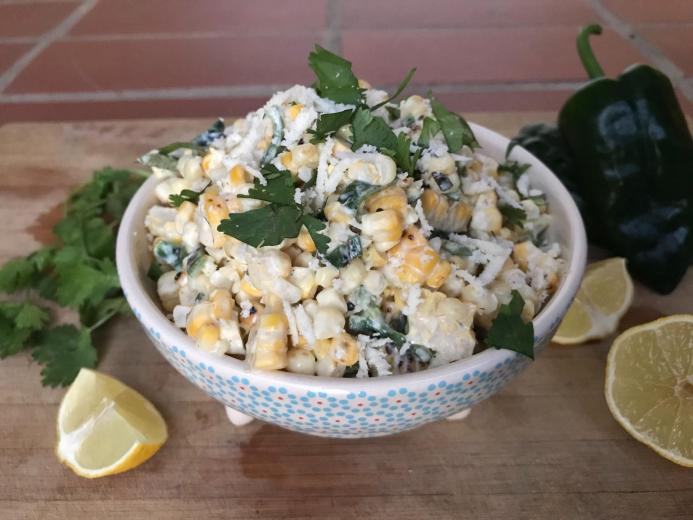 Elote Salad
Elote means corn in Spanish. It also describes a popular dish of corn on the cob that has been grilled and seasoned with chili powder, lime juice, and spread with mayonnaise and cotija cheese. It's a fun–and messy–way to eat your veggies! In our recipe, we take all the ingredients and turn them into a salad that's perfect for sharing! Our version substitutes Mexican crema or sour cream for the mayonnaise to let the lime juice really shine through. This recipe is easy, delicious, and affordable when sweet corn is ripe at your farmers market and grocery.
Elote Salad Recipe
Yield: 2 to 2 1/2 cups
Supply List
Printable Recipe in English
Printable Recipe in Spanish
Printable Recipe in Hmong
Video tutorial: Facebook or YouTube
Ingredients
3 ears of corn on the cob
1/4 cup sour cream or Mexican crema
1/4 cup fresh cilantro
Juice of 1 lime
1 teaspoon chili powder, optional
1/2 teaspoon ground black pepper
1/4 teaspoon ground oregano
2 Tablespoons grated cotija cheese
Instructions for Adults
Assist children with safe use of stovetop.
Instructions for Kids
Shuck the ears of corn. Using metal tongs, place one ear of corn at a time on the stovetop with the burner at medium heat. Leave the corn to roast for about 2-3 minutes. You will begin to smell the sweet kernels and hear popping, almost like popcorn. The corn will begin to blacken. Now, turn the corn to cook on the opposite side, also for 2-3 minutes. Repeat with remaining cobs.
Remove the corn cobs and allow them to cool for about 5 minutes.
While the corn cools, chop or tear the cilantro. Add to a large mixing bowl.
In the same bowl, use a butter knife to scrape the cooled corn kernels from the cob and into the bowl. (Tip: watch our video to see this technique in action!)
Measure and add the sour cream or crema, cilantro, lime juice, chili powder (if using), black pepper, oregano, and cotija cheese. Stir to combine the ingredients. Enjoy!
Hello! We hope you made and enjoyed this recipe from our Your Sandwich Can Save the World! Food Literacy Curriculum! Please note that all photos and content are copyright protected. Please do not use our photos without prior written permission. If you wish to republish this recipe, please rewrite the recipe in your own unique words and link back to Elote Salad on Food Literacy Center's website. Thank you!
Related Links