Recipe
Food Literacy Center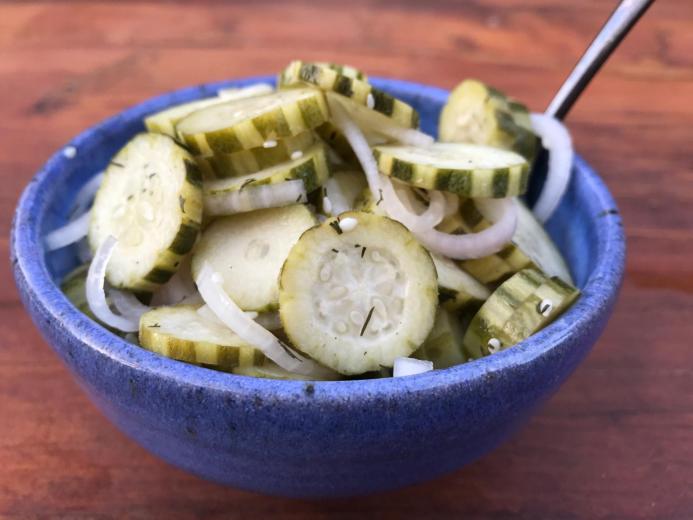 Cucumber Dill Salad
You'll be cool as a cucumber if you eat this salad. That's because the insides of cucumbers are actually 20 degrees cooler than the outside air! That's why they taste so refreshing. This salad douses sliced cucumbers and onions in a quick pickling brine of vinegar that's sweet and sour to wake up your taste buds on a hot summer day. Fresh or dried dill weed adds a sparkle of flavor. Kid-approved, this crisp cucumber recipe is sure to be a beat the heat with one of our favorite farm-fresh summer veggies.
Cucumber Dill Salad Recipe
Yield: 6 cups
Supply List
Printable Recipe
Video tutorial: Facebook live or YouTube
Ingredients
3 Persian cucumbers
1 medium red onion
1 Tbsp dill (fresh or dried)
1 Tbsp fresh mint
1 teaspoon sesame seeds
Salt & pepper, pinch
2 cups distilled white vinegar
1 cup water
2/3 cup sugar
Instructions for Adults
Assist with supervision of safe knife skills and use of the stovetop.
Instructions for Kids
Use the large edge of a box grater or a knife to thinly slice the cucumbers and onions. Place in a large mixing bowl.
Chop or tear the dill and mint into small pieces. Add to the cucumber and onions. Add the sesame seeds. Add a pinch of salt and ground black pepper.
In a medium stockpot, place the vinegar, water, and sugar. Heat over medium heat just until the sugar is dissolved. Carefully pour the hot liquid over the sliced cucumber and onions. Stir just until combined. Cover and place in the refrigerator for at least 1 hour or overnight before serving.
Hello! We hope you made and enjoyed this recipe from our Your Sandwich Can Save the World! Food Literacy Curriculum! Please note that all photos and content are copyright protected. Please do not use our photos without prior written permission. If you wish to republish this recipe, please rewrite the recipe in your own unique words and link back to Cucumber Dill Salad on Food Literacy Center's website. Thank you!
Related Links