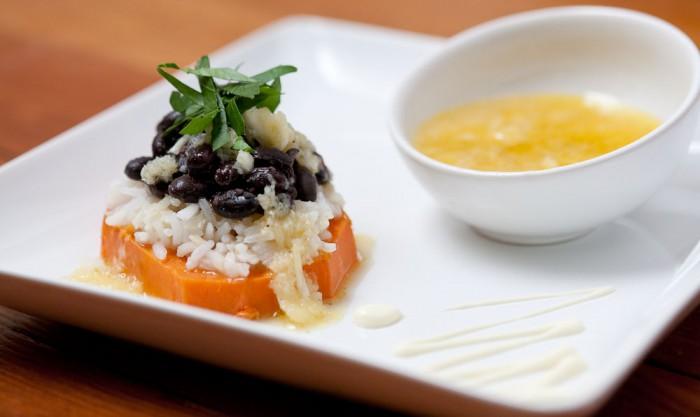 Cuban Yam, Black Bean, & Garlic Rice Stack with Mojo
This recipe is packed with nutritious goodness from yam, black beans and rice, and flavored with a burst of citrus delight. Our board member, Jillena Hernandez shows us how to put together a gorgeous meal that's not only affordable but also incredibly healthy and delicious!
Yield: 4 servings
Cuban yam, black bean, and garlic rice stack with mojo
Note: Start one step the day before by picking through and soaking the black beans in 4 cups of water. You can leave these in a bowl out on the counter.
Ingredients:
Cuban Black Beans
1 c dry organic black beans
1/4 onion, rough chop
4 cloves of garlic, whole
3 bay leaves
2-3 Thai chilies (optional)
The Yam
1-2 fat yams, peeled and sliced 1/4 inch thick round slices
1 tbls olive oil
2 tsp sea salt
Garlic Rice
1 cup organic long grain white rice
3 cloves garlic, minced
1 tbls olive oil
1/4 tsp sea salt
Majo Sauce
6 clove garlic minced
1/4 c organic orange juice
1/4 c fresh lime juice
1/4 c olive oil
1/2 tsp cumin
Salt to taste
Instructions:
As mentioned earlier, start the night before by soaking the beans in water for the night. This will ensure that the beans cook down in a reasonable amount of time. When I don't soak the beans they don't get as soft as I want them even after hours of cooking. The beans can be cooked ahead of time and stored in the refrigerator for up to 5 days if left in their cooking juices.
When ready to cook, drain the beans. Combine the beans in a large pot with 3 cups of fresh water, the onion, garlic, bay leaves and chilis. Cook on high until the water boils then reduce to a strong simmer for an hour or until the beans are soft. Click here for a great article from The World's Healthiest Foods on the nutritional benefits of black beans.
Preheat the oven to 350. Rub the yam slices with the oil and salt over a bowl with your hands. Place on a sheet pan and bake at 350 for approximately 25 minutes until the slices are slightly browned and can be pierced easily with a fork. It is helpful to flip the slices halfway through to avoid sticking to the pan.
To cook the rice, rinse the rice 3 to 4 times, until the water is more or less clear. Drain. Place the rice in a pot with 1 1/2 cups water. Add the salt, garlic and olive oil. Cover the pot, bring to a boil and then lower the heat to simmer for 12 minutes. If the rice is cooked but there is still water, remove the lid and cook on low heat for a few more minutes to dry out the rice. Watch closely so that you do not burn the bottom. Fluff the rice with a fork and replace lid until serving.
To make the mojo, combine the garlic, orange juice, lime juice, olive oil, cumin, and salt. Easy peasy.
To assemble, stack carefully or haphazardly in the following order: yam, rice, beans, then mojo! It was helpful for me to press down the rice on the yam with my hands to pack it down and make an ideal platform for the beans. The dish is pictured above with crème fraiche which you can find here.
This dish is vegan without the crème fraiche.
Tip: I cook a pot of beans and reserve the cooking liquid to store leftovers. I use the leftover beans to toss in salads, or on the side of a spinach and potato taco, or inside a veggie burrito.
Hello! We hope you made and enjoyed this recipe provided by Jillena Hernández! Please note that all photos and content are copyright protected. Please do not use our photos without prior written permission. If you wish to republish this recipe, please rewrite the recipe in your own unique words and link back to Cuban Yam, Black Bean, & Garlic Rice Stack with Mojo on Food Literacy Center's website. Thank you!
Related Links