Recipe
Heather Teoh of Eat the Wind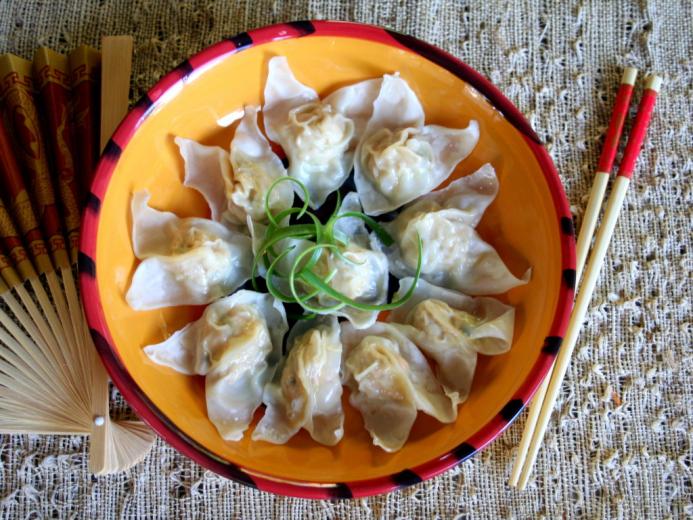 Chicken & Vegetable Steamed Wontons
The Chinese version of ravioli, wontons are a popular dish during Lunar New Year but you can enjoy them any time of the year! Depending on how you fold them, they resemble Chinese gold ingots so they're symbols of fortune and prosperity during the Lunar New Year celebration. You may enjoy them steamed or boiled in chicken or vegetable broth. For a substantial meal, Chinese people would also add noodles in the soup and top them with a couple of wontons.
Folding 60 wontons may seem overwhelming. Get your family and friends to help out! Have a wonton party and see how creative everyone can get with their own wontons!
Chicken & Vegetable Steamed Wontons
Ingredients:
Yield: 60 wontons
Dipping Sauce

1/2 cup soy sauce
2 Tbsp. seasoned rice wine vinegar
2 tsp. sesame oil OR chili sesame oil for a spicy dip
½ tsp. finely grated ginger
½ tsp. finely chopped garlic, optional

Wonton Ingredients

1 lb. ground chicken breast*
1/2 cup green onions, finely diced
1/4 cup grated carrot
1/2 cup finely chopped Napa cabbage
1 tsp. finely grated ginger
1 Tbsp. soy sauce
1/2 Tbsp. sesame oil
Black or white pepper to taste
1 egg, beaten
60 wonton wrappers, found in refrigerated aisle with tofu
1 small bowl of water
Instructions:
Mix chicken, vegetables, ginger, soy sauce and sesame oil in bowl. Add egg to the filling and mix well. Add pepper to taste.
Take approximately 1 tsp. of the filling and place in center of one wonton wrapper. Wet two adjacent sides with water using your finger and fold into a triangle, making sure they stick together. Push down on side with filling to form indentation and wet with finger. Then pinch the two sides together and make sure they stick. There are other ways to fold a wonton. Check out Chow.com for a video how-to guide.
Fill large pan with water and place steamer inside. Line steamer with parchment paper. If you do not have parchment paper, use leaves from Napa cabbage to keep the wontons from sticking to the steamer. Bring water to boil over high heat. Place wontons on steamer when the water is boiling. Cook in batches for 11-12 minutes. Serve with a dipping sauce.
*You can substitute chicken for roughly chopped shrimp or firm tofu.
Hello! We hope you made and enjoyed this recipe provided by Eat the Wind! Please note that all photos and content are copyright protected. Please do not use our photos without prior written permission. If you wish to republish this recipe, please rewrite the recipe in your own unique words and link back to Chicken & Vegetable Steamed Wontons on Food Literacy Center's website. Thank you!
Related Links