Recipe
Erin Alderson of Naturally Ella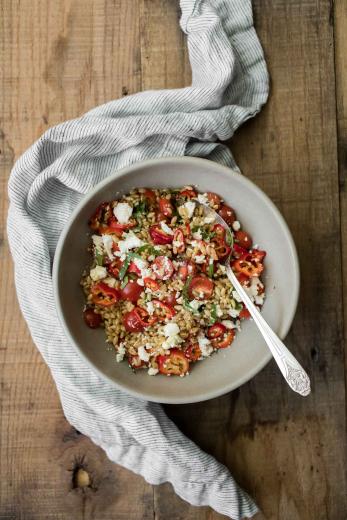 Cherry Tomato Barley Salad
Light and refreshing, this salad highlights a late summer classic, and our Vegetable of the Month – cherry tomato!
Prep time: 15 minutes
Cook time: 55 minutes
Yield: 4 servings
Ingredients
Salad
1 cup uncooked hulless barley
1 small red pepper
3 cups sliced cherry tomatoes
1/2 cup feta
1/3 cup shredded or torn basil
Dressing
3 tablespoons olive oil
juice from one lemon
1 tablespoon honey
¼ teaspoon salt
¼ teaspoon black pepper
Instructions for Adults
Rinse the barley and cover it with 2 ½ to 3 cups of water in a medium saucepan. Bring to a boil, reduce to a simmer, cover, and cook under the barley is tender but still chewy, 50 to 60 minutes. Add more water as needed until the barley is cooked. Drain and excess water and place barley in bowl.
Instructions for Kids
Measure out dressing ingredients into a jar with a tight-fitting lid then shake well to combine.
Instructions for Adults
Cut the red pepper into thin slices and halve the cherry tomatoes. Add to the bowl with the barley.
Instructions for Kids
Crumble feta on top and tear the basil. Drizzle with dressing and toss until the grains are well coated with the dressing and feta.
Notes: While you could use pearl barley, this variation is not a whole grain as the process of removing the hull removes part of the outer layer of the grain which holds a good amount of nutrients.
Hello! We hope you made and enjoyed this recipe provided by Naturally Ella. Please note that all photos and content are copyright protected. Please do not use our photos without prior written permission. If you wish to republish this recipe, please rewrite the recipe in your own unique words and link back to Cherry Tomato Barley Salad on Food Literacy Center's website. Thank you!
Related Links