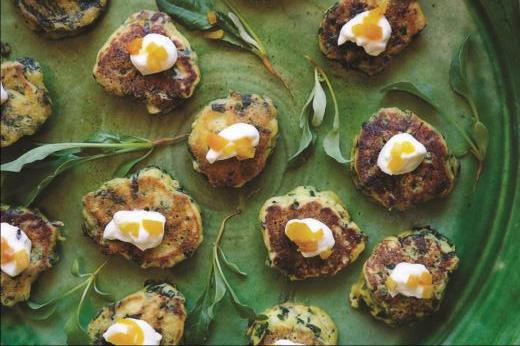 Chard, Ricotta, and Saffron Cakes
We're pleased to present one of Deborah Madison's recipes from her latest highly-acclaimed cookbook Vegetable Literacy. Read all about Madison's inspiration and thoughts on food literacy in our article.
These can serve as a tidy little nibble for a pass-around, be made slightly larger for a first course, or made larger still for a vegetable main course.
These little cakes are so very satisfying and light enough that you can serve them with a dollop of sour cream and a cluster of micro greens or a chiffonade of sorrel. A mixture of chard and beet greens works well, too. The beet greens may cook more quickly than the chard. If you prefer spinach, you'll need at least two pounds.
Yield: 12 three-inch cakes
Chard, Ricotta, and Saffron Cakes
Ingredients:
10 to 12 cups trimmed chard leaves
2 pinches of saffron threads
1 cup white whole wheat pastry flour
1 teaspoon sea salt
11/2 teaspoons baking powder
1 cup ricotta cheese
1/3 cup or more grated Parmesan cheese
3/4 cup milk
2 eggs
3 tablespoons olive oil or ghee, plus extra for frying
Thick yogurt or sour cream, to finish
Micro greens or slivered basil leaves, to finish
Instructions:
Wash the chard, drain, and put it in a pot with the water clinging to the leaves. Cover and cook over high heat until wilted. You want the chard to be tender but not overcooked, so keep an eye on it and taste it frequently. Add a few splashes of water if the pot threatens to dry out. When the chard is done, put it in a colander to cool and drain.
Cover the saffron threads with 2 tablespoons boiling water and set aside.
Combine the flour, salt, and baking powder in a bowl. In second larger bowl, mix together the ricotta, Parmesan, milk, and eggs until blended. Add the oil and the saffron, then whisk in the flour mixture. Returning to the chard, squeeze out as much water as possible, then chop it finely and stir it into the batter.
Heat a few teaspoons olive oil or ghee in a skillet over medium heat. Drop the batter by the spoonful into the hot pan, making small or larger cakes as you wish. The batter is quite thick and it will not behave like a pancake. You need to give it plenty of time in the pan to cook through. Cook until golden on the bottom, then turn the cakes once, resisting any urge to pat them down and cook until the second side is also well colored, maybe 3 minutes per side, or longer.
Serve each cake with a tiny spoonful of sour cream and a finish of diced beets and beet thinnings.
Hello! We hope you made and enjoyed this recipe provided by Deborah Madison and Ten Speed Press, a division of Random House, Inc.! Please note that all photos and content are copyright protected. Please do not use our photos without prior written permission. If you wish to republish this recipe, please rewrite the recipe in your own unique words and link back to Chard, Ricotta, and Saffron Cakes on Food Literacy Center's website. Thank you!
Related Links