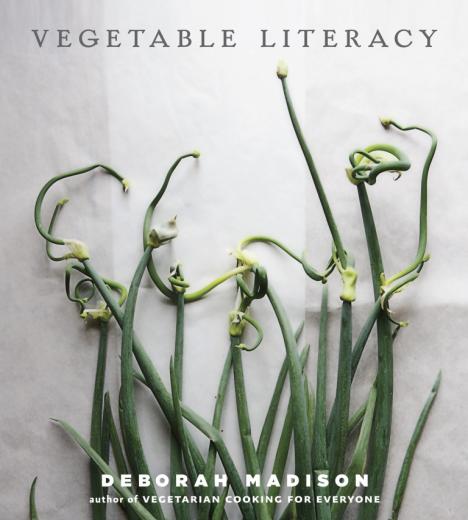 Deborah Madison on Vegetable Literacy, Cooking and the Food Movement
Having grown up on a dairy farm in upstate New York and then in a walnut orchard in Davis, California, Deborah Madison has always loved and appreciated good, wholesome food. A renowned chef, restaurateur, cooking teacher, and author, Madison's latest book Vegetable Literacy is widely praised by critics for being innovative, exciting and inspiring. It features her rich knowledge of vegetables as well as original recipes that celebrate the nuanced flavors, textures and beauty of vegetables.
Madison explains that the title of her book (which we love for obvious reasons!) is about looking beyond the physical beauty of the vegetable and digging deep into what it's related to botanically, how different people have related to it, how it grows, and what parts can be eaten. A deeper understanding of vegetables will help a person become more confident in gardening and cooking, and open their world to new culinary adventures.
"If you grow something, even a pot of cilantro, you're bound to have some little treasure that you can never buy – for example green coriander buds that form once the cilantro has gone to seed," Madison explains. "They're not yet dried so they have this special taste that's in between cilantro and coriander and they make a dish so attractive and interesting."
Being knowledgeable about how different plants are related to one another also helps home cooks gain confidence. The text helps them learn to substitute various vegetables for others, such as chard for beet greens. To Madison, the home cook is an essential force in directing the food culture towards wholesome foods.
"The home cook has a lot to say about kids eating vegetables or not, the role of meat (every day or once in a while?), the choices that are made at the table – whether or not we eat at home, and whether kids go off to school with processed food or a great bag lunch," Madison says.
As for kids who are picky eaters, Madison feels that parents who like vegetables and serve them during meals will influence their children to like vegetables, too. Unfortunately vegetables have to compete with processed foods that are surrounded by marketing gimmicks. But in the end, if the vegetables are cooked well and they are at their peak of flavor, they will taste good.
Madison opened her first restaurant in San Francisco in 1979 called Greens Restaurant. It was one of the earliest Bay Area restaurants to have a farm-driven menu, sourcing their organic produce from their nearby farm, Green Gulch. She feels that today's food movement has a strong presence of young farmers who are educated, organized and working together, more so than back in the 1970s.
"Farmers markets now provide an example of what can be grown and a possible outlet for young farmers," Madison says. "There are more young people wanting to farm–and farm smartly–so I suspect there will be some good results from that."
Get your copy of Vegetable Literacy. For a sample recipe, check out Madison's Chard, Ricotta and Saffron Cakes.
Related Links