Recipe
Erin Alderson of Naturally Ella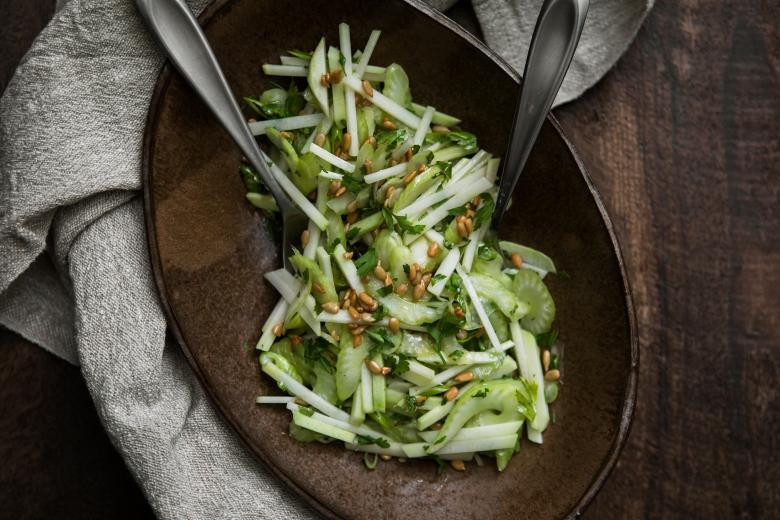 Celery Kohlrabi Salad
This month's Vegetable of the Month is celery! To celebrate, you can cook up this crunchy and refreshing Celery Kohlrabi Salad.
Yield: 4 side servings
Ingredients
Salad
4 stalks celery (2 cups sliced)
½ pound Kohlrabi (about 2 cups sliced)
2 scallions
3 tablespoons minced parsley
Dressing
2 tablespoons olive oil
3 tablespoons raw sunflower seeds
1 tablespoon lemon juice
2 teaspoons honey
Pinch of salt
Instructions
Instructions for Kids
Rinse the vegetables. Tear the parsley (instead of mincing). Measure the ingredients for the dressing.
Instructions for Adults
Trim and peel the kohlrabi and cut into ⅛" thick matchsticks. Trim the celery and scallions, then slice each stalk/scallion into 1/4" thick slices. Place all in a bowl along with the celery then make the dressing.
Heat a small skillet over medium-low heat.
Instructions for Kids
Add the sunflower seeds and cook until the seeds are golden, 1 to 2 minutes.
Instructions for Adults
Remove the pan from heat.
Instructions for Kids
Drizzle the dressing over the salad and toss until well combined.
Notes: If you cannot find kohlrabi or do not want to mess with peeling, use thinly sliced green cabbage in its place.
Hello! We hope you made and enjoyed this recipe provided by Naturally Ella! Please note that all photos and content are copyright protected. Please do not use our photos without prior written permission. If you wish to republish this recipe, please rewrite the recipe in your own unique words and link back to Celery Kohlrabi Salad on Food Literacy Center's website. Thank you!
Related Links