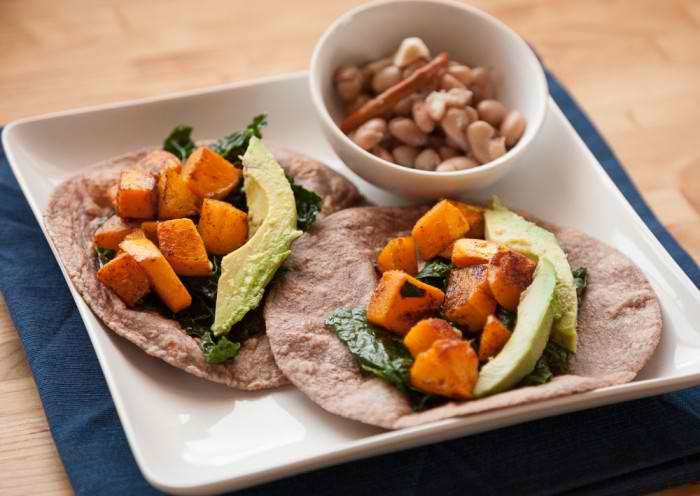 Butternut Squash Tacos with Sauteed Kale
The highly nutritious avocado is featured along with kale and butternut squash in this delicious recipe. However, since butternut squash isn't in season in spring, you can substitute sweet potatoes. They add the same element of sweetness to the vibrant and healthy dish.
Butternut Squash Tacos with Sauteed Kale
Ingredients:
1 whole butternut squash peeled and cut into 1″ cubes
1/2 tsp cumin
1/2 tsp salt
1/8 tsp cayenne pepper
1 tbsp olive oil
paprika, oregano, enchilada sauce seasoning mix (optional)
1 bunch of kale or chard
salt to taste
1 avocado
1 package of blue corn tortillas (I used our locally made Mi Abuelita Bonita Tortillas)
Instructions:
Preheat the oven to 350 degrees.
Peel and cube a butternut squash without any tears or bloodshed in only 5 minutes: #1 With a very sharp kitchen knife cut 1/4-1/2 inch off the bottom of the squash to provide a stable base. #2 Set base on kitchen sink and firmly grasp the top stem to stabilize. Use a potato peeler to peel! I use a KitchenAid peeler that I picked up at Macy's for about $10. #3 Cut off the top stem, set squash upright and halve lengthwise. #4 Scoop out the seeds. #5 Cut each half into 1″ strips and then cut those into 1″ cubes.
Par-cooking the squash, or partially cooking it, can be done the day or morning ahead of time. In a large bowl, toss the squash with the cumin, salt, cayenne and olive oil. Spread evenly in a single layer on a baking sheet and cook at 350 until the pieces are barely undercooked. Tossing once or twice throughout the cooking time will help the pieces cook evenly.
By par-cooking with basic seasoning, you do not have to use all of the squash the same way. The rest of the squash can be used later in a soup, salad or even pasta. Use the par-cooked squash within 2-3 days for optimum flavor.
When ready to eat saute the squash in a non-stick pan with little oil and season to taste. For this recipe, I used a seasoning mix for enchilada sauce that I picked up at the Mexican market. You can also use spices such as paprika, salt, and oregano for a Mexican flavoring.
Prepare the kale by washing thoroughly then tearing out the middle rib from each leaf. It is too hard and generally unappetizing to eat. I heat the pan under a medium-high heat. Tear the leaves up into large bite-size pieces. With a splash of olive oil, saute the kale with a few small sprinkles of some good salt. Only cook until the leaves begin to wilt. Move the kale to a plate where it can cool slightly and stop the cooking process.
Start getting your tortillas warm in a number of ways. If you have a flat griddle, lay them out to heat for about 30 seconds each side then repeat at least 5 times until they are as hot as you want them. If you have a comal, a traditional tortilla pan, use that. I personally like to cook the tortillas on an open flame burner because I like the charred flavor throughout. Just don't leave them there. This process takes seconds. Please don't burn your house down with a corn tortilla.
Finally, assemble the tacos adding a slice of avocado and serve with a side of beans.
For other recipes featuring avocados, visit:
California Roll by Rasa Malaysia.
Chocolate Avocado Milkshake by Skinny Chef.
Tomato, Onion, Avocado Salad by Simply Recipes.
Hello! We hope you made and enjoyed this recipe provided by Jillena Hernández! Food Literacy Curriculum! Please note that all photos and content are copyright protected. Please do not use our photos without prior written permission. If you wish to republish this recipe, please rewrite the recipe in your own unique words and link back to Butternut Squash Tacos with Sauteed Kale on Food Literacy Center's website. Thank you!​​
Related Links