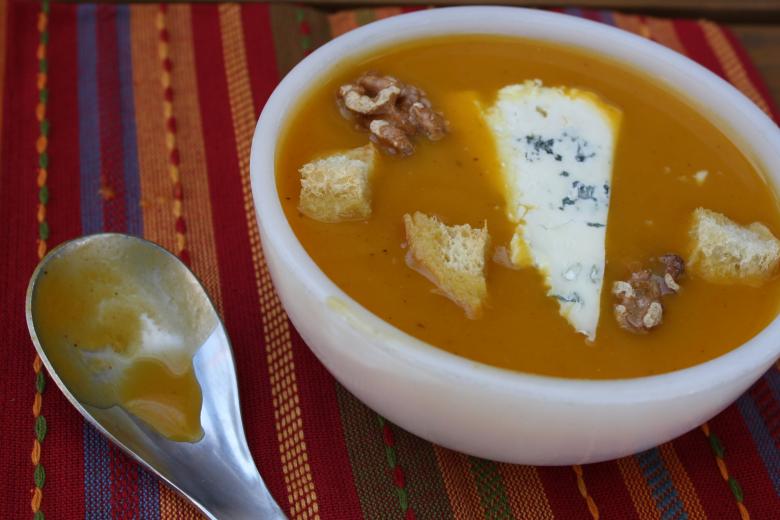 Butternut Squash Soup with Walnuts and Gorgonzola
I purchased a butternut squash at the local market with plans to roast it, but instead it became soup. When I make soup, it has to be quite hearty. I usually like it to have a stew-like quality. This is one of my favorite soups that can stand on its own. It has a velvety-smooth consistency, perfect for warming you up on a brisk fall day. You can vary the toppings depending on what is on hand and it makes plenty for company. This recipe is gluten-free and vegetarian (with vegetable stock).
Yield: about 13 cups; serves 6 to 8
Butternut Squash Soup with Walnuts and Gorgonzola
Ingredients:
2 quarts vegetable or chicken stock
1 large butternut squash, peeled and cut into 2-inch pieces
2 stalks celery, chopped
2 medium carrots, chopped
1 medium yellow onion, chopped
1 clove garlic, minced
2 tablespoons smoked paprika
2 tablespoons smoked sea salt
2 tablespoons fresh ground black pepper
2 tablespoons dried basil
½ teaspoon cayenne pepper
½ teaspoon ground coriander
Toppings: sliced sourdough bread, walnuts, blue cheese (optional)
Instructions:
In a large pot, bring the stock to a rapid boil. Add the squash, celery, carrots, onion, and garlic. Cover and turn temperature down to medium-low. Simmer for 30 minutes. Remove from the heat.
While the soup is cooking, preheat the oven to 350 degrees. Cover a baking sheet with tinfoil. Slice the bread into small cubes and place them in a single layer on the sheet. Toast for about 5 minutes, then toss them to prevent burning. Return to the oven for another 5 minutes, until golden. Remove to a plate to cool. Repeat the toasting procedure for the walnuts.
Working in small batches, put about two-thirds stock to one-third vegetables in a blender and cover (or use an immersion blender right in the pot). Purée for at least 30 seconds. (The ratio is to prevent a very messy and orange kitchen.) Put the puréed mixture in a large, clean nonstick pot over low heat. Stir in the paprika, salt, pepper, basil, coriander, and cayenne. Simmer briefly to bring the flavors together, then serve with the toppings, to add as desired.
Hello! We hope you made and enjoyed this recipe provided by Shannon Guimond! Please note that all photos and content are copyright protected. Please do not use our photos without prior written permission. If you wish to republish this recipe, please rewrite the recipe in your own unique words and link back to Butternut Squash Soup with Walnuts and Gorgonzola on Food Literacy Center's website. Thank you!​
Related Links