Recipe
Food Literacy Center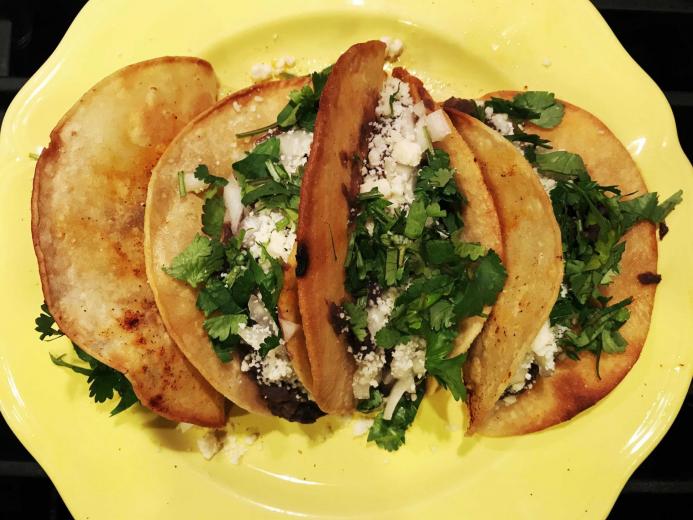 Black Bean Puree
Our Black Bean Puree recipe is a budget-friendly, healthy and delicious alternative to refried beans. Packed with flavor (and fiber!) it's a versatile base for tacos, tostadas and breakfast burritos.
Black Bean Puree Recipe
Yield: 3 cups
Supply List
Printable Recipe
Video tutorial: Facebook or YouTube
Ingredients
1 Tablespoon olive oil
1 small onion, diced and divided
2 cups cooked black beans, drained and liquid reserved
1/2 cup water or reserved liquid from beans
Salt to taste
2 Tablespoons chopped cilantro (optional)
1 Tablespoon cotija cheese (optional)
Instructions for Adults
Assist with supervision of safe knife skills and stovetop.
Instructions for Kids
Preheat a large skillet over medium high heat. Add olive oil to hot pan and swirl to coat.
Set aside 2 tablespoons of diced onion. Add the remaining onion to the hot pan and cook for 3 to 5 minutes, until translucent.
Add beans and 1/4 cup of water or liquid from beans to the pan. Using a potato masher, mash the beans and onions until they begin to form a rustic, chunky puree.
Simmer on medium to low heat for 5-10 minutes or until beans reach your desired thickness. If needed, add remaining liquid for a smoother consistency.
Add salt to taste. Garnish with chopped cilantro, onion, and cotija cheese. (optional)
Eat as a side, dip, or spread. Leftovers can be stored in the fridge for 1 week
Hello! We hope you made and enjoyed this recipe from our Your Sandwich Can Save the World! Food Literacy Curriculum! Please note that all photos and content are copyright protected. Please do not use our photos without prior written permission. If you wish to republish this recipe, please rewrite the recipe in your own unique words and link back to Black Bean Puree recipe on Food Literacy Center's website. Thank you!
Related Links