Recipe
Hank Shaw of Hunter Angler Gardener Cook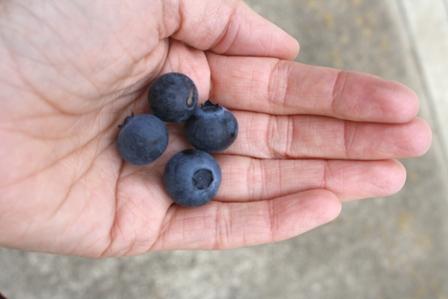 Berry Muffins
Summer's bounty includes gorgeous and sweet berries! James Beard Award-winning food writer, Hank Shaw of Hunter Angler Gardener Cook shared with us his delicious berry muffins recipe. Enjoy these freshly baked muffins for breakfast or afternoon tea!
Berry Muffins Recipe
Yield: makes 9-11 muffins
Ingredients:
5 tablespoons butter
1/2 cup sugar
1 egg
3/4 cup sour cream
1 1/2 cups all-purpose flour
1 1/2 teaspoons baking powder
1/4 teaspoon baking soda
A heaping 1/4 teaspoon salt
1/2 to 3/4 cup wild huckleberries or blueberries
Instructions:
Preheat the oven to 375 degrees and grease a muffin pan.
Beat the butter and sugar together until they are light and fluffy. Beat in the egg, then mix in the sour cream. In another bowl, whisk together the flour, baking powder, baking soda and salt until they are well combined, then mix that into the bowl with the wet ingredients. You just want to get all the flour incorporated into everything, so don't overwork the batter.
Fold in the huckleberries so they are evenly distributed. Use a large spoon to fill the muffin pan 2/3 to 3/4 of the way, as the batter expands a lot in cooking.
Bake for 20-30 minutes, or until you see a little browning, and when a toothpick jammed into a muffin comes out clean (not including blueberry juice). Let everything cool for 5 minutes before turning the muffins out of the pan.
Hello! We hope you made and enjoyed this recipe provided by Hunter Angler Gardener Cook! Please note that all photos and content are copyright protected. Please do not use our photos without prior written permission. If you wish to republish this recipe, please rewrite the recipe in your own unique words and link back to Berry Muffins on Food Literacy Center's website. Thank you!​
Related Links