Recipe
Gaby Dalkin of What's Gaby Cooking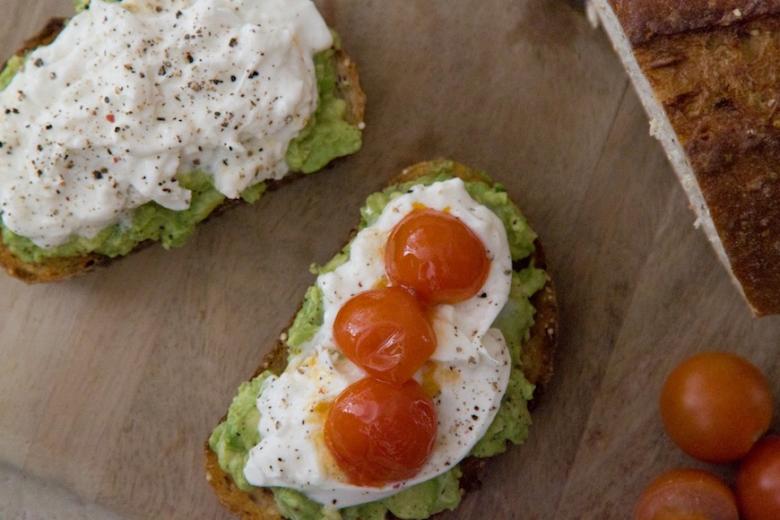 Avocado, Burrata, and Tomato Tartine
Avocados are awesome! They're packed with fiber, folate, potassium, and vitamins K, C, B5, and B6. They add flavor and texture to salads, sandwiches, tacos, and everything delicious. Gaby Dalkin, private chef, cookbook author, and blogger at What's Gaby Cooking, visited our food literacy classes at Capitol Heights Academy to talk about how fantastic avocados are to growing boys and girls.
Her latest cookbook, Absolutely Avocados, features all kinds of healthy and delicious recipes you can make with avocados. This avocado, burrata and tomato tartine recipe is easy to whip up, and makes a healthy and substantial snack for parties or busy days.
Avocado, Burrata, and Tomato Tartine Recipe
Ingredients:
2 pieces thick cut whole wheat toast
1 avocado
1/2 lemon
1/2 cup burrata cheese
1 cup cherry tomatoes, halved
2 teaspoons olive oil
1 clove garlic, finely chopped
Maldon salt and freshly cracked black pepper to taste
Instructions:
Toast the 2 pieces of whole wheat toast until the bread is just golden brown.
Cut the avocado in half lengthwise. Remove the pit from the avocado and discard. Remove the avocado from the skin and place the avocado flesh into a medium bowl and mash it with a fork and a squeeze of the fresh lemon juice. Season with salt and pepper as needed.
Divide the mashed avocado on top of the 2 pieces of toast, followed by 1/4 cup of the burrata on top of each.
In a small skillet, heat the olive oil over medium-high heat. Add the tomatoes and saute for 3-4 minutes until they just start to burst. Add the garlic and saute for 1 minute more until fragrant. Remove the tomatoes from the heat and season with salt and pepper. Add a few tomatoes on top of the burrata.
Sprinkle with salt and pepper and serve immediately.
Hello! We hope you made and enjoyed this recipe provided by What's Gaby Cooking! Please note that all photos and content are copyright protected. Please do not use our photos without prior written permission. If you wish to republish this recipe, please rewrite the recipe in your own unique words and link back to Avocado, Burrata, and Tomato Tartine on Food Literacy Center's website. Thank you!
Related Links