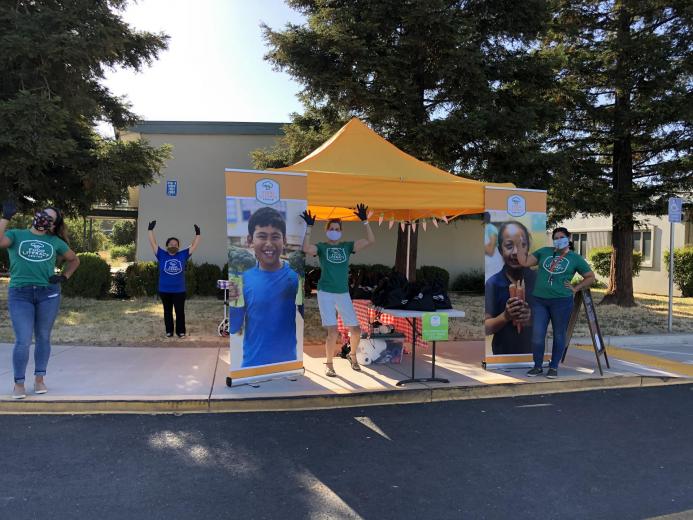 COVID has Changed Us
Letter from the CEO
2020 has challenged us all. COVID has closed schools. For me, it has renewed the reasons I started Food Literacy Center in the first place. I began this work because our existing food system does not benefit everyone equally. It causes real harm and disease to the most vulnerable. I have always believed that we can change that. I know that's why you're here, too. Our work is more critical than ever.
The COVID pandemic has changed a lot for Food Literacy Center. Our solutions today are not static. We are responding as the world around us rapidly changes. We have a series of approaches that meet immediate needs, while continuing to focus any energy we have left on designing a world that offers something better–a safe, healthy space (our coming cooking school) that will be ready for kids and families when we come out on the other side of this crisis.
Today, these are our solutions in action. When you donate, you make all of this possible:
Veggie Recipe Kits
Throughout summer, we are distributing Veggie Recipe Kits to families. During the school year, our students learned how to cook healthy meals in our cooking classes. Now, we're distributing recipe kits to their families so they can cook at home together. While there are other programs where they can get a hot meal or boxes of groceries, our kits are designed to include all the ingredients to make a healthy meal for four. SCUSD Nutrition Services purchases the food. Donors like Whole Foods Market and Safeway Foundation help fund our outreach and time to distribute kits to families. We distribute them one per family at elementary schools in South Sacramento during school lunch distribution. For some families that lack transportation, we're also driving the kits to their homes. We partner with school principals and afterschool staff to communicate with parents. We have served 6 schools so far.
Community Connections 95820
A social worker at one of our Oak Park elementary schools has identified dozens of families that are food insecure and lack transportation to access traditional food distributions. She set up a community pantry at Ephraim Williams Family Life Center. She reached out to Food Literacy Center to help. As one of the nonprofits partnering on the project, our role is to provide food safety oversight and training, food sourcing, budgeting and meal planning, evaluation design, and volunteer coordination. Every week, we arrange for food pickups from the food bank, then pack boxes of healthy food. We work with Root 64, a South Sacramento farm, to design recipes with their fresh produce. Pro Youth and Families provides staff and support. Together, we drive groceries and recipes kits to 33 families (including 98 kids) in Oak Park each week.
Healthy Eating on Franklin Blvd
We received a grant from Dignity Health to help with both healthy eating and economic development along Franklin Blvd. This is a zip code that's considered a food desert. People in this community also experience high rates of health disparities linked to poor diets. What if we trained both youth and restaurants about these health disparities and asked them to create the solution? We are training a Food Literacy Youth Street Team to educate their community about the unique health disparities facing the Latinx population. The owner of a local Mexican restaurant, El Caballo Blanco, is attending the training. El Caballo Blanco will create a healthier menu item through this project. Food Literacy Center will help with a marketing campaign to encourage people across the Sacramento region to order takeout and support this project. We hope to demonstrate that healthy eating can also have an economic advantage. Our partners on this project are Franklin Blvd. Business District and La Familia Counseling Center.
Online Curriculum & Videos
Our entire curriculum is now online!!! As soon as schools closed due to COVID, our staff jumped into action creating videos and designing our once-proprietary lessons for public use. They are available for FREE, because we know that parents and teachers need access to quality STEM resources for distance learning.
Online Recipes Videos
This summer, we've partnered with Oak Park Farmers Market to produce a Food Literacy Friday weekly live recipe demo using ingredients found at the market. Small farmers have been hard hit during the pandemic, because many of their contracts have been in jeopardy with restaurants closed. We ensure that families know what to do with these healthy ingredients. Oak Park Farmers Market and others offer matching dollars to help stretch the budgets of those customers shopping with EBT. This supports small farmers while also getting fresh produce to those who need it most. All our videos can also be found on our website along with printable recipes.
Black Child Legacy Campaign
Last summer, we partnered with Our Kids Community Breakfast Club and Black Child Legacy Campaign to deliver our Food Literacy Academy to Black moms in Del Paso Heights. This summer, we have partnered with this group to provide veggie boxes from the food bank weekly. With funding from Raley's, we are planning a second training this fall.
In times of crisis, families need to maintain health to reduce stress. Healthy, healing food should be distributed in a manner that is trauma-informed to provide dignity to families. Food Literacy Center will leverage healthy food as a tool to strengthen and nourish Black families. The goal: Train mothers with healthy response strategies in the North Sacramento 95838 zip code. By training a local team of on-the-ground activists, we're helping develop resilience from within the community.
Thank You!
I want to personally thank the following funders for emergency COVID response funds: Nourishing Neighbors Community Relief Campaign, Raley's Family of Fine Stores, Sacramento Kings Foundation, Sacramento Region Disaster Relief Fund, Whole Foods Market. In addition, there have been many private individuals who have made meaningful contributions. You have allowed us to remain responsive through this crisis.
It takes a village, and we're grateful for your support! The need for this work will continue to grow as the COVID crisis and recession wears on into 2021. We remain ready to serve and thank you for your continued partnership!
In response,
Amber Stott
CEO & Chief Food Genius
Food Literacy Center
Grapefruit gratitude to funders who support our work.
Related Links