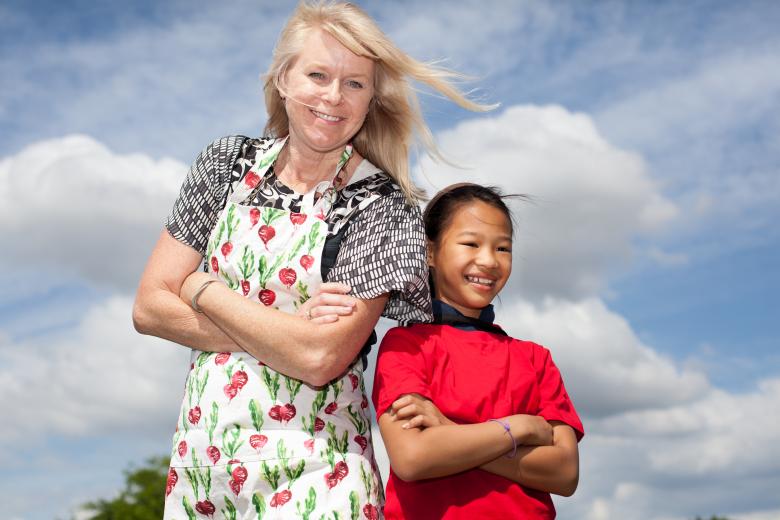 Diana Flores
Food Literacy Hero
Diana Flores wants to transform school kitchens into school restaurants. She serves as the acting director of Sacramento City Unified School District's Nutrition Services Department. In other words, she's the head "lunch lady."
Forget whatever you think you know about school lunch. Today's school lunch business is attracting employees like Flores, who are proactively pushing back against heavy-handed restrictions that limit the quality of their meals. Flores and her team are on a mission to make school food not only taste great, but to also meet high health standards. She sees first-hand the problems of hunger and diet-related disease, like obesity, that SCUSD children face.
"I have always loved feeding kids," Flores says. "I can't stand the thought of a hungry child at my home or at our schools. I love that my job is more than a paycheck, that we make a difference in the lives of so many students who may otherwise go hungry. There's something rewarding knowing that our students need us and we need to rise to the challenge to help them."
At SCUSD, 72% of students receive free or reduced lunch, because their families cannot afford full-price meals. Many of these children eat three meals a day at school. Additionally, 40 percent of children in the community suffer from childhood obesity. School meals are a critical part of these kids' lives, and Flores feels the weight of each decision she makes when her team designs a menu.
Flores works against several challenges that plague school lunch programs across the country: federal and state regulations that care more about what's purchased than what's consumed, tight budgets, food waste, and customers with a diverse range of palettes.
School lunch regulations are ham-fisted and strict, and Flores hates seeing the food waste that results.
"They mandate a child select a half cup of fruit or vegetable even if they never plan to eat it," Flores explains. "They don't offer funding for nutrition education or food literacy to help encourage students to try something new. The food waste due to the mandate could be better spent on quality proteins or other center-of-the-plate entrees."
These mandates are often misunderstood by parents, who often buy into the bad reputation that school lunches have received in the recent past. Flores hopes that parents will give school lunch a chance. As someone with over 30 years' experience in the restaurant industry, a BA in Organizational Management, credentialed as School Nutrition Specialist, and current President of California School Nutrition Association Mother Lode Chapter, it's her job to ensure that each meal meets the highest nutrition standards.
"I want parents to realize that if they are having trouble at the dinner table with their child not eating their veggies, maybe they should buy school lunch more often," Flores says. "Studies show that the more exposure students have to vegetables the more likely they will develop a taste for it. Also, when students see their peers eating a chopped romaine mix they are more likely to try it, too." SCUSD's school salad bars are one of the most effective ways to encourage students to try a wide variety of fruits and vegetables they likely are not experiencing at home.
Since Flores started working in school food ten years ago, she has seen several improvements, including fully stocked salad bars filled with ingredients from farmers Flores personally knows. She also helped develop a Farm to School program in partnership with Food Literacy Center and Soil Born Farms that was funded by the USDA. Flores has prioritized community partnerships like these and being a member of the Healthy Foods Task Force through Valley Vision. Her team also helped develop the district's new school wellness policy, which limits junk food consumption on school campuses.
The next big change on the horizon is the building of the district's Central Kitchen. The kitchen will serve as a commissary, where scratch meals will be prepared for distribution to all school sites, many of which currently lack the equipment and staffing to make homemade meals on site.
Flores envisions a school menu that contains fresh soups full of vegetables, freshly baked breads, and roasted vegetables. As a mother who loves to cook at home with her own children, Flores understands the lasting effect good food can have on children.
"School meal programs are changing," Flores explains, "and we here at SCUSD are committed to developing our kitchens into school restaurants."
Related Links