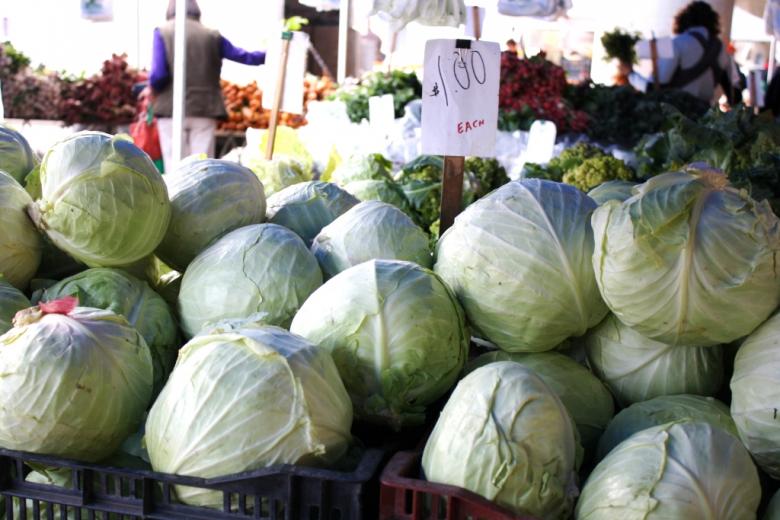 Cabbage – Humble No More
Although not as fancy and exotic as other vegetables found at the farmers' market, the humble cabbage is chock-full of nutrients that fight cancer, vitamin C and fiber. Low cost, low fat, and extremely nutritious, cabbage can be found at farmers' markets throughout California in wintertime.
Part of the cruciferous vegetable family consisting of broccoli, Brussels sprouts, and kale, cabbage is filled with phytonutrients and glucosinolates, which transform into the cancer-blocking compounds sulphoraphane and isothiocyanates. One cup of raw cabbage contains 23 to 40 milligrams of vitamin C, which is up to two-thirds of the daily value.
People who love kimchi and sauerkraut will be happy to read that the fermentation process actually preserves the flavonoids that protects you from cancer and promots the growth of other cancer-fighting compounds. Research shows that one of these compounds, indoles, fights against breast and prostate cancers.
Cabbage grows well in California's climate and soil, and is harvested in December in the Imperial Valley. It's also grown in California's central coast, southern San Joaquin County, the southern coast, and the southern desert, and is available in farmers' markets and grocery stores throughout winter. They come in different varieties and colors including green cabbage, Napa cabbage, Chinese cabbage (bok choy), and red cabbage.
A staple in most cuisines, cabbage can be found in dishes from all around the world: in German sauerkraut, Korean kimchi, Russian borscht, South Indian Andhra cabbage curry, and Mexican pozole. In Singapore, cabbage is used in a multitude of dishes, including stir fry, curries, noodles, soups, and stews. For a simple, low-cost and delicious recipe, check out our Singapore Fried Rice Noodles.
Related Links