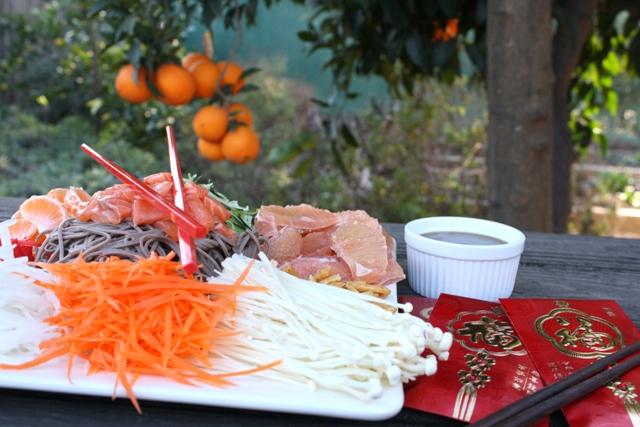 10 Lucky New Year's Recipes from Around the World
All around the world, people celebrate the New Year by cooking and eating symbolic foods that will bring them luck, prosperity and long life. Here's to a Happy New Year to everyone who has supported Food Literacy Center! Cheers to a new year of good health, deliciously nutritious food, and happy food literate kids!
ITALY– Ancient Roman Honey Cookies with Sesame Seeds, Eating Places
Honey-sesame cookies are given to family and friends to wish them a new year full of sweetness.
USA — Hoppin' John, Simply Recipes
In American Southern states, black eyed peas are eaten on New Year's Day for good luck, and are traditionally eaten with collard greens.
CHINA — Steamed Chicken & Vegetable Wontons, Food Literacy Center
Resembling Chinese gold ingots, wontons are symbols of fortune and prosperity for the New Year.
HUNGARY– Hungarian Lentil Soup, All Recipes
In Hungary, lentils symbolize money because they swell when they cool to resemble coins. It is tradition to eat lentil soup for breakfast on New Year's Day to invite prosperity into your life for the upcoming year.
JAPAN — Candied Chestnuts with Sweet Potatoes, Just One Cookbook
In Japanese, this dish is called Kuri Kinton which means "chestnut gold mash." It symbolizes good luck and prosperity for the New Year.
GERMANY — Carrot Soup with Lentils, Authentic German Recipes
A traditional German New Year's Eve meal is a bowl of lentil, pea, bean or carrot soup. There is a belief that eating these soups will bring blessings and wealth for the New Year.
PHILIPPINES — Filipino Pancit (fried noodles), Pinch of Yum
Noodles signify long life, so Filipinos cook pancit to ring in a happy and healthy New Year.
ECUADOR — Traditional Fish Ceviche, Laylita's Kitchen
In Ecuador, it's popular to spend New Year's Eve partying all night at the beach. After a night of revelry, they enjoy a New Year's Day breakfast of fresh seafood ceviche.
SRI LANKA — Kiribath (Milk Rice), Food Corner
In Sri Lanka, kiribath is a simply yet auspicious dish to be served at any celebration, and is cooked and eaten for breakfast on the first day of the New Year.
SINGAPORE — Yu Sheng (Singaporean New Year's Salad), Food Literacy Center
Every ingredient in this Singaporean New Year's salad represents a certain auspicious symbol such as good health, prosperity, flourishing business, and long life. Have your loved ones toss all the ingredients together. The higher you toss, the more luck you spread around!
Related Links