Recipe
Alexandra Fitchener of Girasole Creation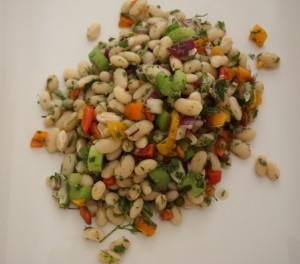 White Bean Salad
Full of bright beautiful colors and flavors, this hearty salad will help you transition from the foods of summer to those of fall. Enjoy this as a light dinner or as a side dish.
White Bean Salad
Ingredients:
1 cup great northern bean, dry
1/2 cup celery, thinly sliced
1/2 cup red onion, diced
3/4 cup sweet bell pepper, diced
1/4 cup cilantro, roughly chopped
1/4 cup dill, roughly chopped
2 Tablespoons lemon juice
3 Tablespoons olive oil
2 cloves garlic, diced
2 teaspoons capers, including juice
salt & pepper to taste
Instructions for parents or teachers:
Cook the dry beans by placing 4 c cold water and beans to a high sided pot. Bring to a boil, then reduce to a simmer. After 1.5 hrs, check the softness of the beans and continue to cook until soft, with a slight bite. Drain the cooked beans and allow to cool.
Mix celery, red onion, sweet bell pepper, cilantro and dill in with the cooked beans.
Make the dressing by mixing the lemon juice, olive oil, garlic, capers and salt and pepper in a jar and pour onto the bean salad.
Instructions for kids:
Help your parent or teacher measure out the ingredients using 1, 1/2 and 1/4 c measuring utensils.
Pick the cilantro and dill leaves off the stem and set aside for your adult to chop.
Hello! We hope you made and enjoyed this recipe provided by Girasole Creation! Please note that all photos and content are copyright protected. Please do not use our photos without prior written permission. If you wish to republish this recipe, please rewrite the recipe in your own unique words and link back to White Bean Salad on Food Literacy Center's website. Thank you!
Related Links