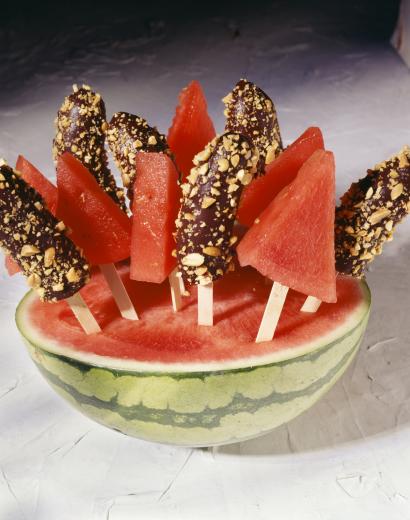 Watermelon Popsicles
I grew up slurping Otter Pops and staining my tongue neon blue. These days, I'd rather color my lips with blueberries—especially frozen into an icy popsicle. I've had some of the best popsicles recently with gourmet flavors like Arnold Palmer (tea and lemonade) and anything mixed with coconut milk.
Then I thought I had the most clever idea–watermelon popsicles with chocolate chips to look like seeds! That would satisfy my daughter's chocolate craving while still getting her some fruit, and it would be pretty. But, of course, it's hard to have an original idea these days–especially in food. So when I turned to my ice cream bible The Perfect Scoop: Ice Creams, Sorbets, Granitas, and Sweet Accompaniments, by David Lebovitz, what did I find on p. 112 but Watermelon Sorbetto with a variation for popsicles with mini chocolate chips. I should have known that David, a chocolate connoisseur of the highest order, would have worked some cacao into his frozen fruit.
So I chopped up a giant watermelon and set to work. Since David said to add chips during the last minute of churning if you make the mixture in an ice cream maker, I thought I should let the watermelon juice set a bit before adding chips. I set the timer for 30 minutes and left the chipless 'sicles in the freezer to get slushy. The mixture started to separate, so I used the popsicle sticks to reintegrate them and then dropped in a few chips. The chips started to sink slowly, so I got them back into the freezer pronto.
Back to the popsicles: I omitted the vodka in the recipe since it was for my daughter, but adding it would help to keep the pops from freezing quite as solid. You don't want them to be soft, but sometimes just a bit of yielding crunch is a nice texture. The color of these is stunning, and you can't complain about fresh watermelon, a dash of lime juice to temper the sweetness, and a few surprising bites of chocolate.
There's no limit to the number of things you can freeze and lick, so put those popsicle sticks to work and get chillin'.
Adapted from The Perfect Scoop: Ice Creams, Sorbets, Granitas, and Sweet Accompaniments
Watermelon Popsicles
Ingredients:
3 cups watermelon juice (see Note)
1/2 cup sugar
Big pinch of salt
1 tablespoon freshly squeezed lime juice
1 to 2 tablespoons vodka (optional)
1 to 2 tablespoons mini semisweet chocolate chips
Instructions:
In a small, nonreactive saucepan, heat about 1/2 cup of the watermelon juice with the sugar and salt, stirring until the sugar is dissolved. Remove from the heat and stir the sugared syrup into the remaining 2 1/2 cups juice in a medium bowl. Mix in the lime juice and vodka, if using.
Pour the mixture into plastic popsicle molds and freeze for 30 minutes. Stir to reincorporate, then drop in a few chocolate chips to each mold. Freeze until solid.
Note: You'll get about 3 cups of juice from a 3-pound watermelon. Cut away the rind, remove any seeds, and then cut the juicy, pink flesh into cubes and puree them in a blender or food processor. Any extra juice can be frozen for another use, such as watermelon margaritas.
Hello! We hope you made and enjoyed this recipe provided by Ann Martin Rolke! Food Literacy Curriculum! Please note that all photos and content are copyright protected. Please do not use our photos without prior written permission. If you wish to republish this recipe, please rewrite the recipe in your own unique words and link back to Watermelon Popsicles on Food Literacy Center's website. Thank you!
Related Links