Recipe
Food Literacy Center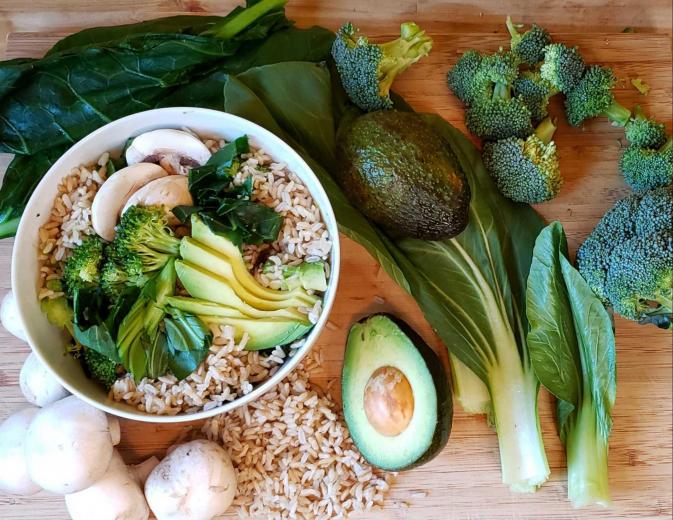 Veggie of the Year Rice Salad
It's Food Literacy Month! Five veggie contenders are competing to be Veggie of the Year. We developed this simple recipe for our students to cook and taste all of the vegetables.
Veggie of the Year Rice Salad Recipe
Yield: 8 cups
Supply List
Printable Recipe
Video tutorial: Facebook or YouTube
Ingredients
1 cup cooked brown rice
1/4 cup bok choy, shredded
1/4 cup collard greens, shredded
1/4 cup broccoli, chopped
1/4 cup mushrooms, sliced
1 avocado, sliced
1/4 cup Honey Soy Dressing, recipe below
Instructions for Adults
Supervise and help where needed.
Pre-cook brown rice and let it cool.
Blanch collard greens by bringing a pot of water to a simmer. Add one leaf at a time and simmer for 30 seconds, then dip into a bowl of ice water to stop cooking. Have kids pat the leaves dry with a paper towel.
Instructions for Kids
Use plastic knives or hands to tear bok choy and collard greens into small pieces. (Discard chard stems.) Place veggie leaves in a bowl.
Use a plastic knife to chop broccoli into bite-sized pieces and add them to the other vegetables.
Use a plastic knife to slice mushrooms and avocado. Add the mushrooms to the other vegetables. Set the avocado slices aside.
In a large bowl, mix the cooked rice and all the veggies. Add a vinaigrette dressing and mix to combine. Top with slices of avocado.
Serve and enjoy!
Honey Soy Dressing Recipe
Yield: 1 1/4 cups
Ingredients
1/2 cup canola oil
1/4 cup sesame oil
1/4 cup rice vinegar
1/4 cup soy sauce
2 Tablespoons honey
Instructions for Adults
Help kids measure recipe ingredients.
Instructions for Kids
Measure ingredients and add them all to a jar. Screw the lid on tightly. Shake until combined, about 30 seconds or more.
You can store any extra dressing in the fridge. It will keep for a few weeks.
Hello! We hope you made and enjoyed this recipe from our Your Sandwich Can Save the World! Food Literacy Curriculum! Please note that all photos and content are copyright protected. Please do not use our photos without prior written permission. If you wish to republish this recipe, please rewrite the recipe in your own unique words and link back to Veggie of the Year Rice Salad on Food Literacy Center's website. Thank you!
Related Links