Recipe
Alexandra Fitchener of Girasole Creation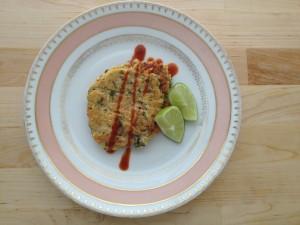 Veggie Pancakes
Sweet potatoes and pancakes, what a joy! Sweet potatoes are currently in season and are delicious prepared in so many ways, but I bet you haven't put them in pancakes before. Pancakes are an unconventional way to showcase the bright flavors in this recipe, where chiles, red onion, garlic, ginger, cilantro and lime zest really shine. Enjoy this for any meal with salsa, guacamole, hummus, a scrambled egg, or just a squeeze of lime juice and hot sauce. As I'm sure you will discover, leftovers taste even better!
Yield: 14 pancakes
Veggies Pancakes
Ingredients:
3/4 cup corn meal
3/4 cup all purpose flour
1 1/4 cup full fat yogurt
2 Tablespoons garlic, chopped fine
2 Tablespoons ginger, chopped fine
1/3 cup red onion, diced
1/3 cup cilantro, chopped
1-2 serrano or thai chiles (or one of each, depending on how hot you like it!), diced
1/2 cup sweet potato, grated, skin on
1 teaspoon lime zest
1 1/4 teaspoon salt
1 teaspoon pepper
1/4 teaspoon smoked paprika
1/4 – 1/3 cup water
Instructions for kids:
Help your adult measure out and place all ingredients (except for water) into a large bowl. Carefully mix all ingredients together with a large spoon or spatula.
Instructions for adults:
Chop garlic, ginger, red onion, cilantro, and chiles; grate the sweet potato and zest the lime. Help your child measure out and place all ingredients (except for water) into a large bowl. Once these ingredients are mixed in with each other, add the water. The batter should be pourable but still very thick. Heat a griddle or non-stick pan and once it gets very hot, add 1/4 cup batter. Allow the pancake to cook on this first side for about 3 minutes, and then flip using a spatula. This first side should be golden brown. Allow the second side to cook for about 2-3 minutes.
Hello! We hope you made and enjoyed this recipe provided by Girasole Creation! Please note that all photos and content are copyright protected. Please do not use our photos without prior written permission. If you wish to republish this recipe, please rewrite the recipe in your own unique words and link back to Veggie Pancakes on Food Literacy Center's website. Thank you!​
Related Links