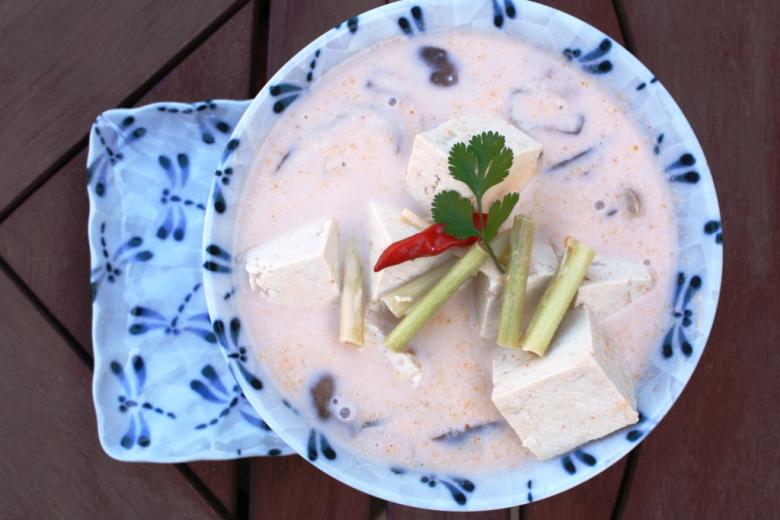 Vegetarian Thai Coconut Soup
This northern Thailand specialty, called tom kha gai, typically includes chicken breast slices (gaimeans chicken in Thai). This recipe features tofu and shitake mushrooms, which balance the richness of the coconut milk and the sour, sweet and spicy flavor of the soup. Lemongrass is also used in Thai curries.
If you like curry, check out our kabocha squash Thai red curry recipe.
Vegetarian Thai Coconut Soup
Serves 4
Ingredients
One 14-ounce can coconut milk
1 cup vegetable broth
6 slices galangal (found in Asian grocery stores) or 4 slices ginger, thinly sliced
2 stalks lemongrass, tough outer shell removed, tender portion cut into 1 inch pieces, bruised
2-3 red Thai bird's eye chilies (mild), stems sliced off
One 14-ounce carton extra firm tofu, cut into 1 inch cubes
1 cup shitake mushrooms, thinly sliced
¼ cup lime juice
1 Tablespoon Thai fish sauce, or vegetarian substitute
1 Tablespoon raw cane sugar
1 teaspoon Thai red curry paste
¼ cup cilantro, coarsely chopped
Instructions
In a large pot or wok, add one cup of coconut milk and the vegetable broth, galangal slices, lemongrass and chilies, and bring to a boil. Add the remaining coconut milk, tofu, shitake mushrooms, lime juice, fish sauce, sugar and curry paste, return to a boil and then simmer over low heat for 15 minutes.
Remove the tofu cubes and mushrooms and set aside, divided among serving  bowls. Pour the remaining soup evenly among the bowls using a strainer to catch the ginger, chili and lemongrass. Discard the ginger, chili and lemongrass., Serve the broth with the tofu and mushrooms. Garnish each bowl of soup with the cilantro. Serve immediately.
Recipe by Heather Teoh
Here are some other fun recipes using lemongrass:
Vietnamese Lemongrass Chicken by Rasamalaysia
Halibut with Coconut Milk, Lemongrass and Chilies by Daily Fill
Ginger Lemongrass Tea by Courtney Out Loud
Related Links