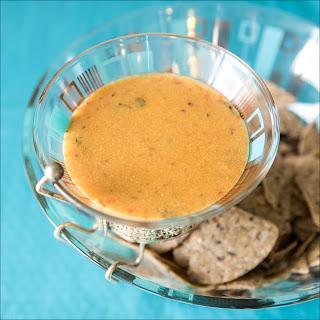 Vegan Queso Dip
We're excited to have a delicious vegan recipe from a very talented writer, recipe developer, and photographer, Sarah Olson!
Yield: 2 1/2 cups
Vegan Queso Dip
I was pleasantly surprised at how closely this vegan queso dip approximated real queso dip. Now, you won't mistake it for a cheddar fondue, but it's certainly not far off from a queso made with melty, processed cheese. Give it a try. Make it for a party and don't tell anyone it's vegan. I can guarantee no one will know the difference. The best part is you can eat all you want without wondering how much time you'll have to spend on the treadmill to work it off. If that's not worth it, I don't know what is.
Adapted from One Sweet Vegan
I've changed the proportions of the original recipe quite a bit, but I imagine that this recipe has a lot of flexibility. I could see adding some Soyrizo or other meat alternative for "meatiness."
I like Trader Joe's Salsa Especial for the salsa. It's not too watery and has a good heat. If you don't want heat, use a mild salsa and leave out the cayenne.
Ingredients:
1/2 cup nutritional yeast flakes
1/2 cup flour
1/2 tsp. smoked paprika
1 tsp. garlic powder
1 tsp. cumin
1 tsp. salt
1 tsp. turmeric
dash of cayenne
2 cups water
2 Tbsp. margarine
1/2 cup spicy salsa (not too watery)
Instructions:
In a saucepan, combine the dry ingredients. Whisk in water and turn on heat to medium-low. Whisk constantly until the sauce is thickened, about 3-4 minutes.
Remove from heat and add margarine until melted. Stir in salsa. Return to low heat until heated through.
Hello! We hope you made and enjoyed this recipe provided by Sarah Olson and A Beach Home Companion! Please note that all photos and content are copyright protected. Please do not use our photos without prior written permission. If you wish to republish this recipe, please rewrite the recipe in your own unique words and link back to Vegan Queso Dip on Food Literacy Center's website. Thank you!
Related Links