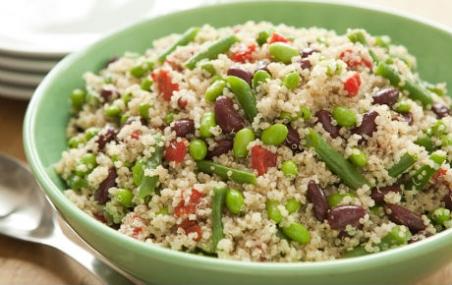 Three-Bean Salad with Quinoa
Packed with protein and vitamins, this simple and tasty quinoa salad recipe comes to us courtesy of Whole Foods Market, our Food Literacy Hero for July. You can substitute the beans in this salad for canned garbanzos, pinto or black beans. Serve it up as a side dish for a BBQ or picnic, or a protein-packed vegetarian entree.
Bring your own reusable shopping bags to Whole Foods Sacramento and Whole Foods Roseville from July 8 to the end of September to get the ingredients for this amazing salad. As part of their Nickels for Nonprofits program, California Food Literacy Center will receive a 5 cents donation per bag. Shop to support food literacy!
Three-Bean Salad with Quinoa
Ingredients:
1 cup uncooked quinoa
Salt and ground black pepper
1/2 pound green beans, trimmed, cut into 2-inch pieces, cooked and rinsed in cold water
1 1/2 cup frozen shelled edamame, thawed
1/2 cup chopped roasted red peppers
1 (15 ounce) can kidney beans, rinsed and drained
1/4 cup prepared Italian dressing
1 teaspoon dried tarragon
Instructions:
Rinse quinoa under cold running water and drain. Bring 1 3/4 cups water to a boil in a small pot. Stir quinoa and a pinch of salt into water. Reduce heat, cover and simmer until tender and liquid is absorbed, 15 to 20 minutes. Uncover and let cool.
Put cooled quinoa, green beans, edamame, peppers, kidney beans, dressing, tarragon, salt and pepper into a large bowl and toss well. Serve chilled or at room temperature.
Hello! We hope you made and enjoyed this recipe from our Your Sandwich Can Save the World! Food Literacy Curriculum! Please note that all photos and content are copyright protected. Please do not use our photos without prior written permission. If you wish to republish this recipe, please rewrite the recipe in your own unique words and link back to on Food Literacy Center's website. Thank you!
© 2016 Food Literacy Center. All rights reserved. Do not copy or share without written permission.
Related Links