Recipe
Food Literacy Center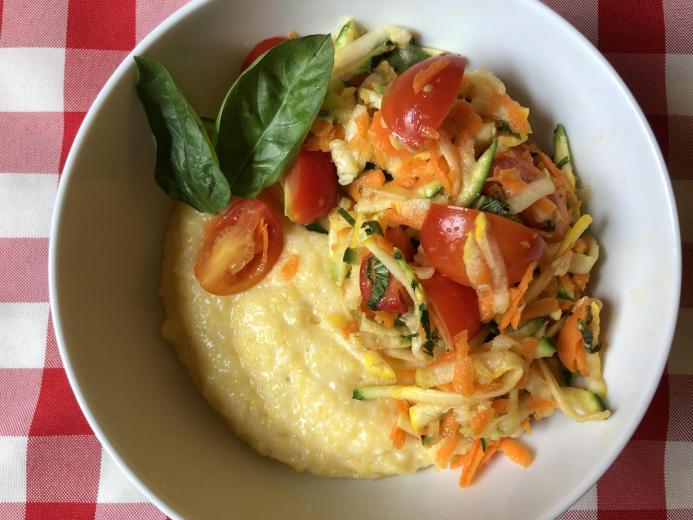 Summer Polenta
Summer Polenta Recipe
Yield: 8 cups
Supply List
Printable Recipe
Video tutorial – Facebook or YouTube
Ingredients
2 cups shredded carrots
2 cups shredded zucchini
2 cups cherry tomatoes, quartered
2 Tablespoons fresh basil, chopped
2 Tablespoons olive oil
2 Tablespoons rice wine vinegar
1 1/8 teaspoon salt
4 cups water
1 cup polenta
1/4 cup cream cheese
Instructions for Adults
Assist children at the stove to ensure safety.
Instructions for Kids
Place the shredded carrots, zucchini, and cherry tomatoes in a large mixing bowl and add the chopped basil.
Measure the olive oil and rice wine vinegar and add them to the mixture.
Add 1/8 teaspoon of salt and mix to combine, set aside.
In a medium pot, bring the water and 1 teaspoon of salt to a boil. Add polenta then reduce heat and simmer for 15 minutes or until thickened, stirring occasionally. Once done, fold in the cream cheese and continue stirring until it is combined. To serve, place 1 cup of polenta in a bowl and top with 1 cup of veggies.
Hello! We hope you made and enjoyed this recipe from our Your Sandwich Can Save the World! Food Literacy Curriculum! Please note that all photos and content are copyright protected. Please do not use our photos without prior written permission. If you wish to republish this recipe, please rewrite the recipe in your own unique words and link back to Summer Polenta on Food Literacy Center's website. Thank you!
Related Links