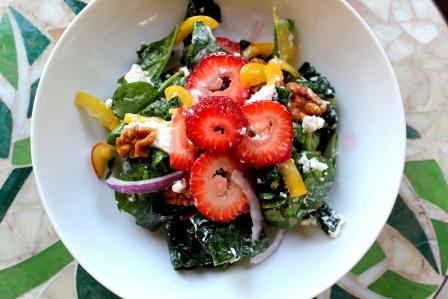 Spinach, Kale & Strawberry Salad
My friend Dianne Frelich is a busy mom of 8-month-old twin boys. When I visited her, she managed to throw this delicious salad together in less than 15 minutes! It has everything a busy mom would need to keep up with her kids — antioxidants and vitamins from kale, spinach, walnuts, and strawberries, and protein from walnuts and goat cheese. It's not only nutritious, it's also incredibly delicious! The combination of sweet and savory makes this salad taste like a dessert!
Spinach, Kale & Strawberry Salad
Yield: Serves 4
Salad Ingredients:
3 cups kale leaves, chopped into bite-sized pieces
3 cups baby spinach
1/8 cup red onions, thinly sliced
1 cup strawberries, thinly sliced
1/4 cup candied walnuts
2 ounces goat cheese
Dressing:
4 Tablespoons extra virgin olive oil
4 Tablespoons balsamic vinegar (or peach white balsamic vinegar* if available)
Instructions:
Place kale, red onions and baby spinach in a large salad bowl. Gently toss in dressing to coat the leaves.
Add the strawberries and candied walnuts. Sprinkle the crumbled goat cheese on top and gently toss the ingredients. Serve immediately.
*Peach white balsamic vinegar works very well with these ingredients but might not be easily available.
Hello! We hope you made and enjoyed this recipe provided by Dianne Frehlich! Please note that all photos and content are copyright protected. Please do not use our photos without prior written permission. If you wish to republish this recipe, please rewrite the recipe in your own unique words and link back to Spinach, Kale & Strawberry Salad on Food Literacy Center's website. Thank you!
Related Links