Recipe
Heather Teoh of Eat the Wind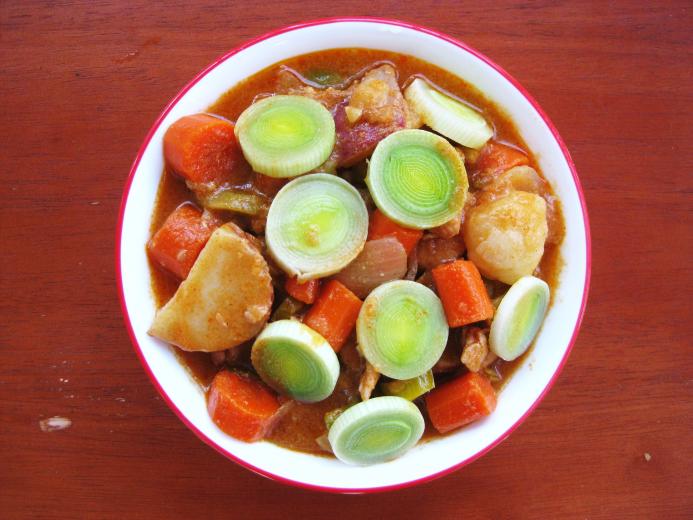 Spicy Korean Chicken Stew (Dak Bokkumtang)
Leeks provide a complexity to this dish, which is mainly savory but also is a little sweet and spicy. I first had this dish when I was in Seoul, South Korea. It was a cold winter night and this hot stew really hit the spot! When I returned from my trip, I went about researching how to make this dish. Below is my interpretation of dak bokkumtang. It's typically made with a whole chicken cut into pieces but it is healthier and easier to make with boneless, skinless breasts.
Yield: Serves 4
Spicy Korean Chicken Stew
Ingredients:
1 pound boneless, skinless chicken breasts, cut into bite-sized chunks
3 tablespoons Korean fermented hot pepper paste called Gochujang* (you can find this at any Asian or Korean grocery store in the spice/sauce aisle)
1 ½ teaspoons soy sauce
1 tablespoon vegetable oil
5 cloves garlic, finely chopped
4 small red potatoes (or any other kind), cut into quarters (about 2 cups)
3 medium carrots, chopped into ½-inch rounds (about 1 1/2 cups)
½ medium yellow onion, chopped into quarters
1 teaspoon cayenne pepper
1 leek, white part thinly sliced (about 1 cup)
Salt and pepper
Instructions:
Combine the chicken with the soy sauce and 1 tablespoon of the hot pepper paste, and refrigerate for 30 minutes.
Heat the oil in a large pot or deep pan over medium heat, add the garlic, and fry it for 1 to 2 minutes (before it browns). Add the potatoes and carrots, and stir-fry for about 3 minutes. Add the chicken and onion, and stir everything together for a minute. Add 2 cups water and then the remaining 2 tablespoons of the hot pepper paste and the cayenne. Bring the stew to a boil and then lower the heat to simmer it, uncovered, for 20 to 25 minutes (until the vegetables are cooked). Stir occasionally. Finally, add the leeks and simmer the stew for another 5 minutes. Season with salt and pepper.
Enjoy with white rice or on its own.
*Gochujang can also be used to marinade different meats for BBQ.
Here are some other recipes featuring leeks:
Potato Leek Soup from Pinch My Salt.
Leek, Broccoli and Pea Soup from Scandi Foodie.
Hello! We hope you made and enjoyed this recipe provided by Eat the Wind! Please note that all photos and content are copyright protected. Please do not use our photos without prior written permission. If you wish to republish this recipe, please rewrite the recipe in your own unique words and link back to Spicy Korean Chicken Stew (Dak Bokkumtang) on Food Literacy Center's website. Thank you!​
Related Links