Recipe
Food Literacy Center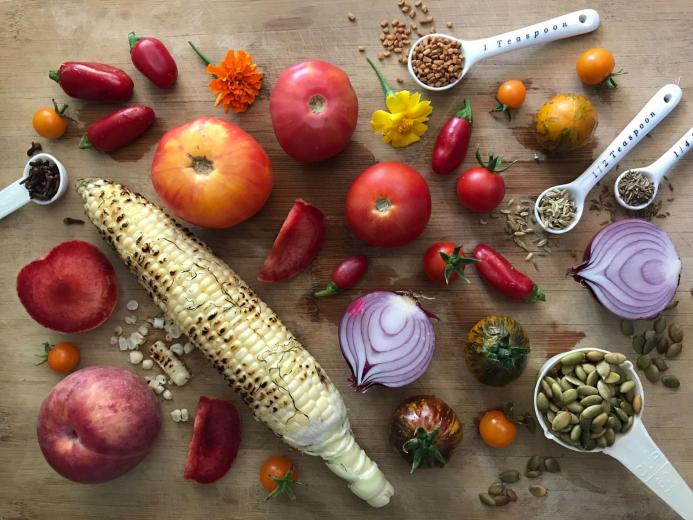 Spiced Corn & Plum Prana Salad
The dish was inspired by founder & CEO Amber Stott's ripe pluots over a conversation with colleagues in India. In India, plums are often cooked into chutney. We uses those spices to build a flavor-packed, fresh salad that uses the best of late summer, early fall farmers market produce.
Spiced Corn & Plum Prana Recipe
Yield: 4 cups
Supply List
Printable Recipe
Video tutorial: Facebook or YouTube
Ingredients
3 ears of corn, shucked
3 jalapeno, optional
1 small red onion
1 large heirloom tomato
1 plum
1/4 cup pumpkin seeds
1/4 cup Prana Spiced Salad Dressing (recipe below)
Instructions for Adults
Grill ears of corn on the stovetop on medium high heat for about 2-3 minutes on each side until golden and slightly charred. Assist with safe knife skills.
Instructions for Kids
With help from an adult, slice the corn kernels off each cob and place them into a medium-sized serving bowl.
Use a food chopper to finely chop the chilis and onion. Add them to the bowl with the corn.
Use a paring knife to safely dice the heirloom tomato and the plum into bite-sized chunks. Add the tomato, plum, and pumpkin seeds to the bowl.
Add 1/4 cup of Prana Spiced Salad Dressing. Stir everything together with a large spoon and serve!
Prana Spiced Salad Dressing
Yield: 1 cup dressing
Ingredients
1-2 teaspoons Prana Spice Mix (recipe below)
1 Tablespoon whole grain mustard
1/4 cup red wine vinegar
3/4 cups canola oil
Instructions for Kids
Add all ingredients to a jar. Seal lid tightly and shake until combined. You can store this in the refrigerator for up to a month.
Prana Spice Mix Recipe
Ingredients
1-inch piece of ginger, peeled
1/2 teaspoon mustard seeds
1/4 teaspoon fenugreek seeds
1/4 teaspoon fennel seeds
1/4 teaspoon cumin seeds
1/4 teaspoon black pepper
1/4 teaspoon salt
2 whole cloves
Instructions for Kids
Place all ingredients in a mortar and pestle. Smash for about 5 minutes, until a smooth paste forms. You can store this in a jar in the refrigerator for a week.
Hello! We hope you made and enjoyed this recipe from our Your Sandwich Can Save the World! Food Literacy Curriculum! Please note that all photos and content are copyright protected. Please do not use our photos without prior written permission. If you wish to republish this recipe, please rewrite the recipe in your own unique words and link back to Spiced Corn & Plum Prana Salad on Food Literacy Center's website. Thank you!
Related Links