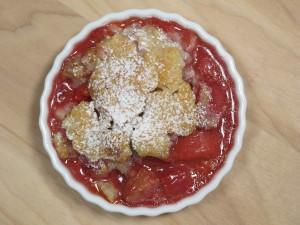 Rhubarb, Strawberry & Raspberry Cobbler
This cobbler combines the tartness of rhubarb and the sweet strawberry and rhubarb. It's sure to be a crowd pleaser!
Yield: Serves 6
Rhubarb, Strawberry & Raspberry Cobbler
Instructions:
Preheat oven to 375F. Into a small bowl measure:
1/3 c + 1 T sugar
1 T cornstarch
1/4 t kosher salt
Whisk together thoroughly, then set aside.
Finely grate the zest of 1 lemon, then set aside.
Prepare the fruit. Into a large bowl measure:
1-1/2 lb rhubarb, sliced into 1/2″ pieces
8 oz container of strawberries, hulled and cut in half
6 oz container of raspberries
Add the reserved sugar mixture and lemon zest. Use a large spoon to gently but thoroughly combine until the fruit Is well coated. Transfer the fruit to a 1 qt baking dish, pressing it down with your hands to compact it and mound it slightly in the center. Set aside and prepare the topping.
Using a stand mixer fitted with the paddle attachment (or a handheld mixer), mix together to combine:
1/2 c flour
1/3 c sugar
1/2 t baking powder
1/4 t kosher salt
Add:
2 T unsalted butter, cold, cut into small pieces
Mix on low speed 1-2 minutes until butter pieces are pea-sized. While mixer is running drizzle in:
1/4 c milk, cold
Blend on low speed just until combined. Using a large spoon, dollop on top of fruit, spreading thickly and leaving a 1/2″ border of fruit around the edge of the baking dish. Sprinkle the dough with 1 T of sugar, if desired. Place the baking dish on a parchment or foil-lined baking sheet (to catch spills) and bake 45-60 minutes, until topping is nicely browned and juices are bubbling.
Remove from the oven, transfer the baking dish to a cooling rack and let cool at least 1 hr before serving.
To serve, dust the top with powdered sugar and spoon into a bowl or cup. Drizzle with a little bit of cream, if desired, or serve with vanilla ice cream.
Hello! We hope you made and enjoyed this recipe from our Your Sandwich Can Save the World! Food Literacy Curriculum! Please note that all photos and content are copyright protected. Please do not use our photos without prior written permission. If you wish to republish this recipe, please rewrite the recipe in your own unique words and link back to on Food Literacy Center's website. Thank you!
© 2016 Food Literacy Center. All rights reserved. Do not copy or share without written permission.
Related Links