OPB Rosemary Brewers Grain Crackers
When brewers make beer, they're left with massive amounts of leftover "spent" grain. Craft breweries all over the country have devised innovative ways to prevent their spent grain from going to waste – Oak Park Brewing Co. is no exception. Known for their zero-waste approach to brewing, Oak Park Brewing Company uses the spent brewer's barley, wheat, corn and rye in cooking, composting, and as animal feed.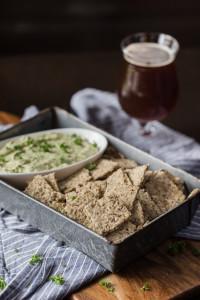 On March 8, kids and families are invited to join Food Literacy Geniuses to cook up a zesty bean dip, topped with fresh herbs, on brewers grain crackers made by Oak Park Brewing Company's kitchen. You'll also get to see how the crackers are made. Check out the recipe below and join us for this family-friendly Sacramento Beer Week event!
OPB Rosemary Brewers Grain Crackers
Ingredients:
1 1/4 cup white flour
3/4 cup brewers grain flour (use a dehydrator or oven to dry your spent grain and run through a food processor*), whole wheat flour can be used in lieu
2 teaspoon baking powder
1 teaspoon salt
2 teaspoons fresh rosemary, chopped
2 teaspoons garlic powder
1 teaspoon pepper
3 Tablespoons olive oil
1/4 cup water
coarse sea salt and fresh cracked pepper, for sprinkling
Instructions:
Heat oven to 375°F.
In a bowl, mix the white and brewers grain flours, baking powder, salt, rosemary, garlic, salt and pepper. Add the olive oil and water, stirring until mixed well. If dough is dry and crumbly add a tablespoon of water or as needed, if dough is too moist add a tablespoon of brewers grain flour until soft sticky dough is formed.
On a lightly floured surface, roll the dough out thin with a rolling pin directly onto parchment or silpat. Use a pizza cutter or knife to cut into squares, or cut out other fun shapes using cookie cutters. Sprinkle coarse sea salt and fresh cracked pepper and lightly press into the dough with your fingers. Use a fork to make small holes in crackers.
Bake crackers for about 12-15 minutes, or until golden and crisp. Let the crackers cool before removing from the pan.
Total Time: 30 minutes
*Brewers grain flour:
Brewers grain (aka spent grain) flour: Always start with fresh brewers grain/spent grain, which can usually be obtained from your local homebrewer. If you do not feel like processing your grain right away you can refrigerate or freeze your fresh wet grains in ziplock bags. Strained out as much liquid as possible. Pre-heat your oven to the lowest temperature setting (usually 150-200 degrees) and spread out spent grains onto a cookie sheet, or place in a food dehydrator. Bake them until they're completely dried out, which will generally take about seven hours, stirring every few hours to ensure even drying. When you can no longer detect any moisture, take the sheet out and allow the grain to cool a bit before giving it whizz in the food processor. If you don't have a food processor, you can also make the flour in a coffee or spice grinder.
Homemade "spent grain" flour can be used in bread, pasta, crackers, pastry shells, cookies, cobbler, muffins, and veggie burgers or any recipe calling for whole wheat flour for up to half the quantity called for. For example, a recipe calling for three cups of whole-wheat flour should use up to 1.5 cups of spent grain flour and use the regular flour to make up the rest.
Recipe by Oak Park Brewing Company
Photo by Erin Alderson – Naturally Ella
Related Links