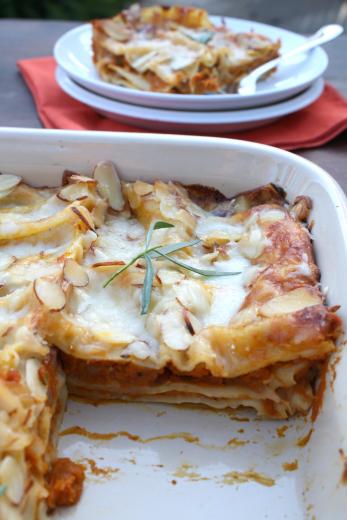 Nutty Pumpkin Lasagna
This is a great dish for the holidays–especially if you're looking for a vegetarian entree.
I love lasagna, but it takes a long time to make and bake on a weeknight. So I developed this quicker version, based on a recipe for pumpkin tortelloni. The original recipe called for 3 cups of cheese and 1 cup of almonds, but I made this lower-fat version and it still retains lots of flavor.
Yield: Serves 6 to 8
Nutty Pumpkin Lasagna
Ingredients:
2 teaspoons olive oil
2 cups thinly sliced onions
2 teaspoons sugar (optional)
1/3 cup sliced almonds
One 8- or 9-ounce box no-boil (oven-ready) lasagna noodles
One 29-ounce can pure pumpkin (not pie filling)
1 teaspoon minced garlic
1 tablespoon minced fresh sage or 1 1/2 teaspoons dried
1½ teaspoons salt
1/2 teaspoon freshly ground black pepper
3/4 cup chicken or vegetable broth, divided
½ cup (2 ounces) shredded Parmesan cheese
½ cup (2 ounces) mixed shredded low-fat Italian cheeses
Instructions:
In a wide, shallow pan, warm the oil over medium heat. Sauté the onions until they are translucent, then turn down the heat to low and let them cook until they become light golden. Add the sugar if desired, to help the caramelization, and stir the onions every few minutes. They should take about 30 minutes.
Preheat the oven to 425°F. Spread the almonds on a rimmed baking sheet (jelly-roll pan). Place the pan in the oven while it heats to toast the almonds for 10 to 12 minutes.
Put the noodles in a 9 x 13–inch baking dish and pour hot water over them to soak.
Meanwhile, in a large bowl, combine the pumpkin, garlic, sage, salt, and pepper. Stir in the onions when they are finished.
Remove the noodles from the baking dish and drain; discard the water. Pour 1/4 cup of the broth into the dish. Layer in 4 noodles, then half of the pumpkin mixture, smoothing it to make it even. Put in another layer of noodles and the remaining pumpkin. Top with the final layer of noodles, then sprinkle on the cheeses and the almonds. Pour the remaining ½ cup stock over the top.
Bake the lasagna for 25 minutes, or until it is browned and bubbly. Let stand for 10 minutes before serving. Let stand for 10 minutes before cutting.
Variation: Nutty Pumpkin Lasagna Rolls
Prepare as directed through step 4. Spray the baking dish with oil and pour in 1/4 cup of the broth. Laying each noodle flat on a work surface, spread it with pumpkin filling and roll up like a jelly-roll. Place the rolled noodle seam-side down in the pan. Repeat with the remaining noodles and filling. Sprinkle with the cheese and the remaining 1/4 cup almonds. Pour the remaining 1/2 cup stock over the top. Bake for 20 minutes, or until the rolls are browned and bubbly. Let stand for 10 minutes before cutting each roll into 1-inch pieces. Serve hot.
Adapted from Hands-Off Cooking: Low-Supervision, High-Flavor Meals for Busy People by Ann Martin Rolke
Hello! We hope you made and enjoyed this recipe provided by Ann Martin Rolke! Please note that all photos and content are copyright protected. Please do not use our photos without prior written permission. If you wish to republish this recipe, please rewrite the recipe in your own unique words and link back to Nutty Pumpkin Lasagna on Food Literacy Center's website. Thank you!​
Related Links