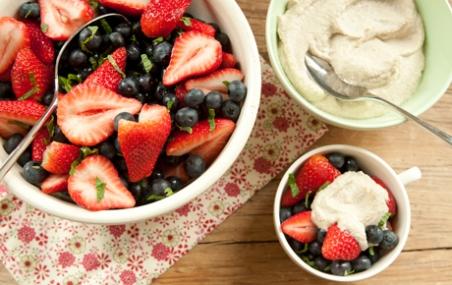 Memorial Day Recipes
5 recipes to make your Memorial Day delicious
Whether you are having a picnic or hosting a party in your backyard, celebrate Memorial Day weekend with one (or all) of these healthy and delicious recipes!
This recipe is easy to put together and bursting with flavor from different vegetables, herbs, and homemade ranch dressing. It's also kid-tested and approved.
Colorful and patriotic, this salad is a hit with both kids and adults, and it's full of vitamins, antioxidants and nutrients. The cashew cream is the perfect complement to summer's bounty of blueberries and strawberries.
Barbeques and potato salad go together like peanut butter and jelly. This potato salad recipe from Simply Recipes is sure to hit the spot!
Food Literacy Center Tip: Instead of using Yukon gold potatoes, experiment with a different variety of potato like purple/blue potatoes, or fingerling potatoes.
This salad is perfect for a summer gathering. It features black beans, corn kernels, parsley, basil or cilantro and throws in some tomatoes and bell peppers for sweetness and color. Hello summer!
Food Literacy Center Tip: Get your kids involved! Kids are great at tearing and adding herbs, and dumping canned veggies!
Simple and delicious, this dish is truly irresistible.
Food Literacy Center Tip: Get your kids involved! Teach your kids what it means to saute & let them stir the veggies in the pan!
Related Links