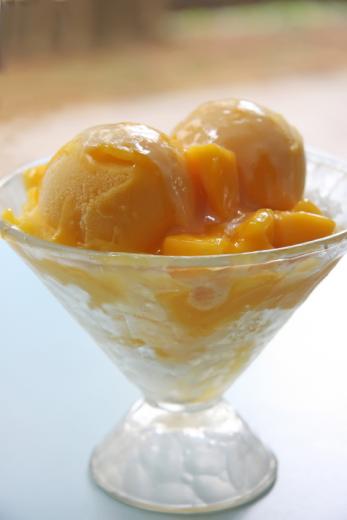 Mango Ice Cream with Tropical Ambrosia
Nothing says summer like the tangy sweetness of a juicy ripe California mango. Mangoes* are in season now and have I got a fantastic recipe for you. Take advantage of the golden state's brilliant bounty with my easy peasy mango ice cream! Rich, creamy and oh so sweet; it's hard to believe this homemade treat is as nutritious as it is delicious!
Mangoes are loaded with vitamins, minerals, and other nutrients. They are high in vitamin A which is essential to our eyes, rich in digestive enzymes that actually clean out our digestive tracts, and plant phenols that help prevent and fight cancer. Now what other ice cream do you know that does all that? The best thing about this fabulous frozen treat? It's quick, easy, and fun, making it a perfect way to get your kids in the kitchen!
*If mangoes are not in season, substitute with nectarines or peaches.
Yield: Makes 6 servings
Tropical Ambrosia
Ingredients:
1 ½ cups mashed avocados (3 avocados)
½ cup agave nectar
½ cup water
2 teaspoon vanilla powder or 2 teaspoons non-alcohol vanilla extract
½ cup diced mango
½ cup diced pineapple
½ cup diced banana
Mango Ice Cream Ingredients:
3 cups frozen mango chunks (see note)
Instructions:
To make the Tropical Ambrosia, place the avocados, agave nectar, water, and vanilla powder in a food processor and process until smooth. Transfer the avocado purée to a mixing bowl and fold in the diced fruits.
To make the mango ice cream, allow the mango chunks to thaw for 5 minutes. Place in a food processor and process until smooth. Stop occasionally to scrape down the sides of the bowl with a rubber spatula.
To serve, place a spoonful of tropical ambrosia in a small dessert bowl. Top with a scoop of mango ice cream.
Note: To make frozen mango chunks, freeze fresh cubed mango on a parchment-lined glass baking dish in the freezer for 30 minutes to 2 hours. Then place the mango cubes in re-sealable plastic bags and store in the freezer for at least 2 hours and up to 1 week. Alternatively, use frozen organic mango chunks, which are available in the freezer section of many grocery stores.
Hello! We hope you made and enjoyed this recipe from our Your Sandwich Can Save the World! Food Literacy Curriculum! Please note that all photos and content are copyright protected. Please do not use our photos without prior written permission. If you wish to republish this recipe, please rewrite the recipe in your own unique words and link back to on Food Literacy Center's website. Thank you!
© 2016 Food Literacy Center. All rights reserved. Do not copy or share without written permission.
Related Links