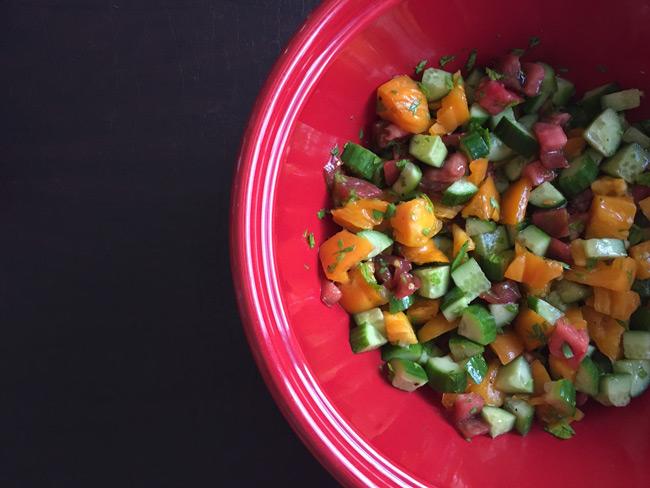 Israeli Chopped Salad
Salad for breakfast? Definitely not a typical choice on an American breakfast menu. In Israel, breakfast includes bowls piled high with fresh tomatoes, cucumbers, parsley, mint, lemon juice, and olive oil. And this same style salad might just as easily pop up at lunch or dinner as well.
Chopped salads are a thing of beauty for so many reasons – they are broccoli beautiful (so many colors), veggie versatile (use what is cheap and seasonal at the market), celery simple (chop, dress, toss, eat), and so easy to personalize to your own tomato taste.
In this variation, the two highlighted vegetables are at the top of season in August and September in California – cucumbers and tomatoes. We recommend using Persian, Armenian, or English cucumbers that don't need to be peeled, but any cucumber will work – the crunchier the better. For the tomatoes, any variety will work from baby cherry tomatoes all the way to beefsteaks. When the juice from the tomato mingles with the lemon juice and olive oil, it is just plain parsley perfect!
This is the most basic version of this salad but part of its beauty is that you can change it to match your kids' taste buds, your meal, or what's in your refrigerator. For example, change the lemon to lime, the parsley to cilantro, add avocado and suddenly it has Mexican flavors. Need something more substantial? – add feta cheese or cotija cheese. Love radishes? Corn? Bell Peppers? All make great additions.
Israeli Chopped Salad
Yield: 4-6 servings
Ingredients
3 medium sized Persian cucumbers, about 12 ounces
2 large tomatoes or about 40 cherry tomatoes or 4 -5 medium sized tomatoes
¼ cup chopped parsley (or to taste)
juice of one Meyer or regular lemon, about 2 – 3 tablespoons
1 tablespoon extra virgin olive oil
½ teaspoon kosher salt
¼ teaspoon pepper
Instructions for Parents/Teachers
Peel the cucumber if necessary. Chop the cucumber and tomatoes to a similar dice size. Chop the parsley. Slice the lemon in half for squeezing.
Instructions for Kids
Place the diced cucumber, tomatoes, and parsley in a salad bowl. Squeeze the lemon to release its juice into a small bowl. Then add two tablespoons of the juice to the salad mixture. Then add the extra virgin olive oil, salt and pepper. Mix well with a big spoon or your own clean hands. Taste. If you prefer more lemon, oil, salt, or pepper – adjust to your liking. This salad is all about what tastes good to you. Love lemon? – add some grated zest too for even more lemon punch.
Related Links