Recipe
Heather Teoh of Eat the Wind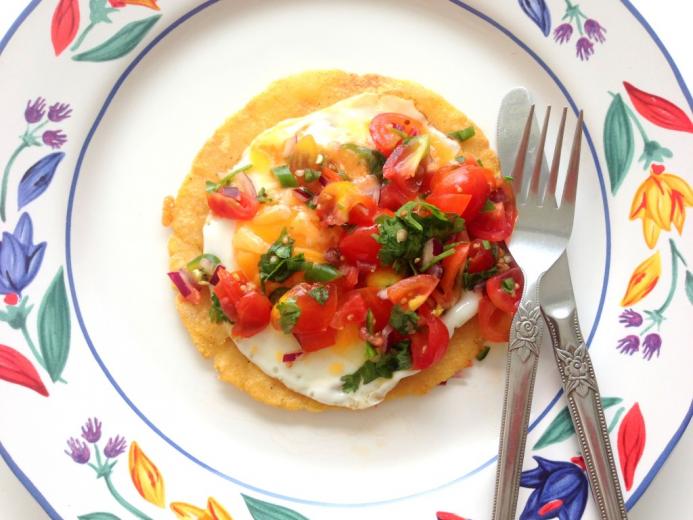 Huevos Rancheros
Huevos rancheros combines a crispy corn tortilla with the creamy yolk of a sunny side up egg and the spicy freshness of salsa. This recipe is easy to make and will be ready in a flash!
Huevos Rancheros
Yield: serves 4
Ingredients:
4 corn tortillas
4 eggs
½ cup shredded cheese
½ cup salsa or pico de gallo (freshly made or from a jar)
Salt & pepper to taste
Instructions:
In a small frying pan, heat a splash of olive oil over medium heat. Cook the egg sunny side up until the whites are hardened but the yolk is soft. Add a pinch of salt and pepper on the egg.
In a medium sauté pan, heat a splash of olive oil over medium heat and place a tortilla in it. After a minute or 2, turn it over and place the egg on top of the tortilla.
Sprinkle about a teaspoon or so of cheese on top of the egg. The heat will melt the cheese. After the cheese is melted (about 1-2 minutes), remove the huevos rancheros from the pan and add about 2 teaspoons of salsa (or to taste) on top.
Repeat for the other 3 tortillas.
Serve immediately.
Hello! We hope you made and enjoyed this recipe provided by Eat the Wind!​​ Please note that all photos and content are copyright protected. Please do not use our photos without prior written permission. If you wish to republish this recipe, please rewrite the recipe in your own unique words and link back to Huevos Rancheros on Food Literacy Center's website. Thank you!
Related Links