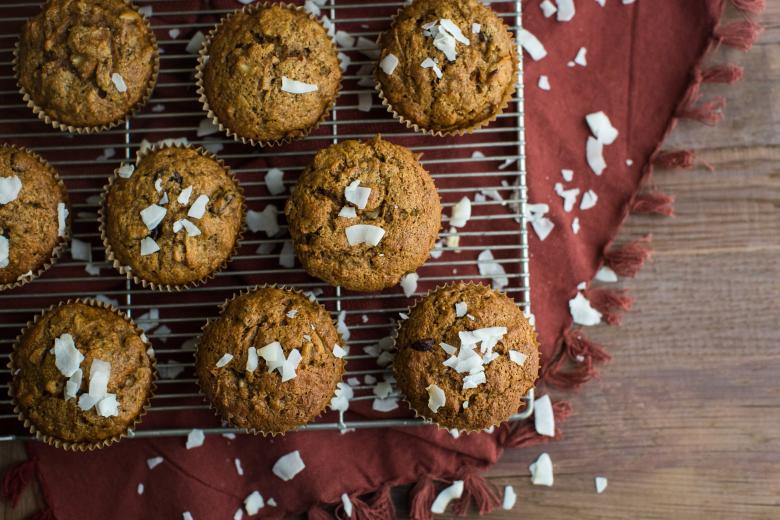 Hearty Banana-Carrot Muffin Recipe
Whip up a batch of these muffins for a wholesome breakfast or treat that is packed full of fiber and vitamins! With whole-wheat flour and lots of shredded carrots, they're hearty and filling. To top it off, they have a lightly sweet flavor which will make these muffins an instant favorite in your house.
Ingredients
2 cups whole wheat flour
1/2 cup sugar
1/2 cup brown sugar
2 teaspoons baking soda
2 teaspoons cinnamon
2 teaspoons ground ginger
2 cups shredded carrots
1/3 cup each: raisins, sunflower seeds, flaked coconut & semisweet chocolate chips
3 medium ripe bananas
3 eggs
1/4 cup olive oil
2 teaspoons vanilla extract
1 teaspoons spiced rum
Instructions:
Preheat oven to 375 degrees.
In a large mixing bowl, combine flour, sugars, soda and spices. Add the raisins, seeds, coconut, and chocolate chips. Stir to combine.
In a medium mixing bowl, mash the bananas. Add the eggs, oil, vanilla and rum. Blend well. Add this mixture to the dry ingredients and stir just until moistened.
Fill greased or paper-lined muffin cups two-thirds full. Bake for 18-22 minutes or until a toothpick inserted in the middle comes out clean.
Remove from oven. Cool on a wire rack for 5 minutes. Remove from pans and allow to cool completely. Yield: 1 1/2 dozen
Recipe courtesy of Amber Stott, founding Executive Director of Food Literacy Center
Related Links