Recipe
By: Whole Foods Market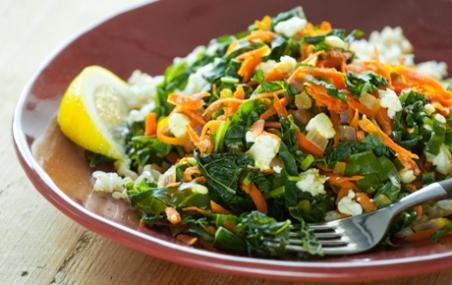 Greens with Carrots, Feta Cheese and Brown Rice
Jazz up brown rice with carrots, greens and feta cheese! Not only is this dish incredibly nutritious, it's also delicious and satisfying for lunch or dinner. Thanks to Whole Foods Market Sacramento for this yummy recipe.
Bring your own reusable shopping bags to Whole Foods Sacramento and Whole Foods Roseville from now to the end of September to get the ingredients for this nutritious dish. As part of their Nickels for Nonprofits program, California Food Literacy Center will receive 5 cents as a donation per reusable bag. Shop to support food literacy!
Greens with Carrots, Feta Cheese and Brown Rice
Ingredients:
2 carrots, shredded
2 bunches dark leafy greens (kale, collard greens or Swiss chard), tough stems removed, leaves very thinly sliced
1/2 red onion, finely chopped
1/4 teaspoon sea salt
1/2 teaspoon ground black pepper
1/4 pound feta cheese, crumbled
1 (20 ounce) package frozen 365 Everyday Value Organic Whole Grain Brown Rice, prepared according to package directions
Instructions:
Put carrots, greens, onions, 1/4 cup water, salt and pepper into a large, deep skillet and toss well. Cover and cook over medium heat, tossing once or twice, until greens are wilted and tender, 10 to 15 minutes. Toss with feta cheese and spoon over brown rice.
Recipe and photo courtesy Whole Foods Market.
Hello! We hope you made and enjoyed this recipe from our Your Sandwich Can Save the World! Food Literacy Curriculum! Please note that all photos and content are copyright protected. Please do not use our photos without prior written permission. If you wish to republish this recipe, please rewrite the recipe in your own unique words and link back to on Food Literacy Center's website. Thank you!
© 2016 Food Literacy Center. All rights reserved. Do not copy or share without written permission.
Related Links