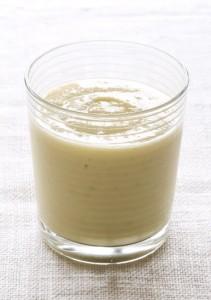 Grapefruit-Fennel Fix Smoothie
A surprisingly stunning combination, grapefruit and fennel are both rich in vitamin C, phytonutrients, antioxidants, and potassium. The blend serves up anti-inflammatory, anti-cancer, weight-loss, and detox power that helps boost immunity, scavenge harmful free radicals, cleanse the colon, regulate heart rate and blood pressure, aid digestion, and alleviate stomach ailments.
Yield: serves 2
Ingredients:
1/2 cup (120ml) water
1/2 small fennel bulb, cored, trimmed of stalks, and chopped
1 medium red grapefruit, peel and pith removed, seeded, and cut into chunks
1 green apple, skin on, cored and chopped
1/4 medium avocado, pitted and peeled
1 1/2 tablespoons freshly squeezed lemon juice
15 drops alcohol-free liquid stevia, plus more to taste
1 1/2 cups (190g) ice cubes
Instructions:
Throw all of the ingredients (except the ice cubes) into your blender and blast on high for 30 to 60 seconds, until smooth and creamy. Add the ice and blast for a few seconds more, until smooth and chilled.
Ingredients for boosters:
1 cup (27g) loosely packed baby spinach
1 teaspoon flaxseed oil
1 teaspoon pomegranate powder
This recipe can be found on The Blender Girl Smoothies App. The app features high-quality, delicious recipes with gorgeous photography, and includes user-friendly features such as:
An interactive function that allows the user to consider what they "Feel, Need, and Crave" to "find their perfect blend"
Visual cues that indicate specific benefits and attributes of each recipes (e.g. detox, weight management, alkaline, anti-inflammatory, protein rich, immunity boost, energizing, unsweetened, contains nuts)
Dietary restriction filters, shopping list function and metric/imperial conversions
A self-populating shopping list to assist users in purchasing ingredients for the smoothie recipes they select
Three optional ingredients added to every recipe that boost the flavor profile and nutritional benefits
Hello! We hope you made and enjoyed this recipe provided by Tess Masters and The Blender Girl Smoothies App! Please note that all photos and content are copyright protected. Please do not use our photos without prior written permission. If you wish to republish this recipe, please rewrite the recipe in your own unique words and link back to Grapefruit-Fennel Fix Smoothie on Food Literacy Center's website. Thank you!
Related Links